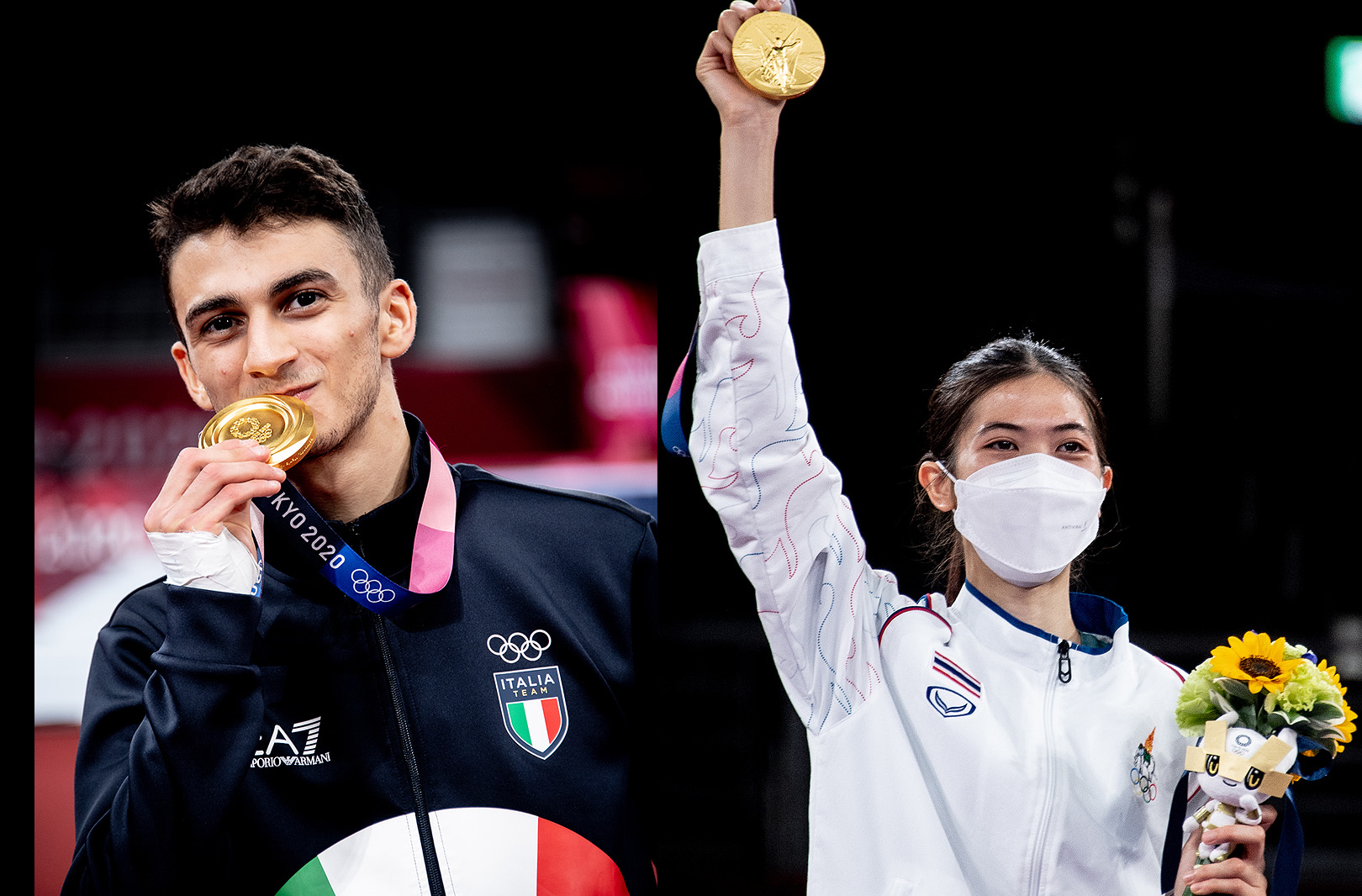 Medalists from the first day of the Taekwondo competition at Tokyo 2020 share their views of how it went

CHIBA, Japan (July 25, 2021) - After the smoke had cleared on Day 1 of the Taekwondo competition at the Makuhari Messe Hall A in Chiba athletes got the chance to wind down, relax and talk to media.

Thailand's Panipak Wongpattanakit had been the pundits' favorite to win the W-49kg category from the get-go – and, indeed, walked away with gold.
But there had been surprises.

"I was calm, I was confident that I could take the win," she said - but being so high-profile had its disadvantages, as her virtually unknown opponent knew her game.

"My opponent had studied me a lot, so I had to change my game plan," she said. "Lacking experience made my opponent more hungry - she came out with fire! - but I was confident in my abilities."

The Thai came back from behind in the final round with cool, precise professionalism - taking the match and the gold with the points she needed, when she needed them.

That turnaround result caused some angst to her opponent, a 17-year-old Spaniard, who – having never won a major before – came within inches of Olympic gold.

"I am happy - but it is like 50-50," admitted silver medalist Adriana Cerezo Iglesias. "I have some feeling of being really good, but on the other hand - I had it! I let her win - I gave her the chance to win! But she is really good."

Similarly, in the M-58kg category, Italy's Vito Dell'Aquila took gold courtesy of a from-behind victory.

"It was not strange to win, as I am second in the rankings," he said to a large and very, very happy Italian press corps. "I had a few problems in the second round, I really had to focus on the moment, and that helped me to win."

His Tunisian opponent – like Cerezo Iglesias, a virtual unknown in the Taekwondo world before yesterday - seemed dazed but delighted to suddenly find himself in the global spotlight.

"I tried for three rounds, but in the last 30 seconds, it changed," said Muhamed Khalil Jendoubi. "I am so happy for this medal - the next one will get better! I did my best, I thank God, I am happy - I give it to Tunisia."

What is next for this new tranche of Olympian champs?

In the immediate future, there will be relaxation.

"I don't have to diet or have anxiety, so I will enjoy my medal," said Dell'Aquila. "But I will continue to work, as I love taekwondo."

Bronze medalist Mikhail Artamanov of ROC was asked what he plans to do with the prize money he will receive when he returns home.

"I have no specific plans," he said. "But of course, I will share it with my family."

Looking further into the future, the Italian gold medalist - despite having reached the pinnacle of sport - is hungry for more.

"I want to participate in future Olympics – Paris 2024, LA in 2028 and maybe in 2032 – as the Olympic atmosphere is fantastic," said Dell'Aquilla. "But I want to stay down to earth. Life continues."

For a man who took up taekwondo in order to overcome shyness, the Italian is almost certainly going to find himself in the public gaze when he steps off the plane back in Italy.

He is ready for it.

"This sport is very demanding, but it is a very nice sport, and I want to promote it among young people," he said. "It is my passion!"

One question about this unique Olympic Games was how it had felt to compete in a stadium that – due to the global pandemic – was empty of spectators.

"Some athletes need an audience, but I don't - I am always so focused I forget everything around me," said Dell'Aquila. "I want the audience to come back - of course, sports needs an audience! - but this experience was good for me."