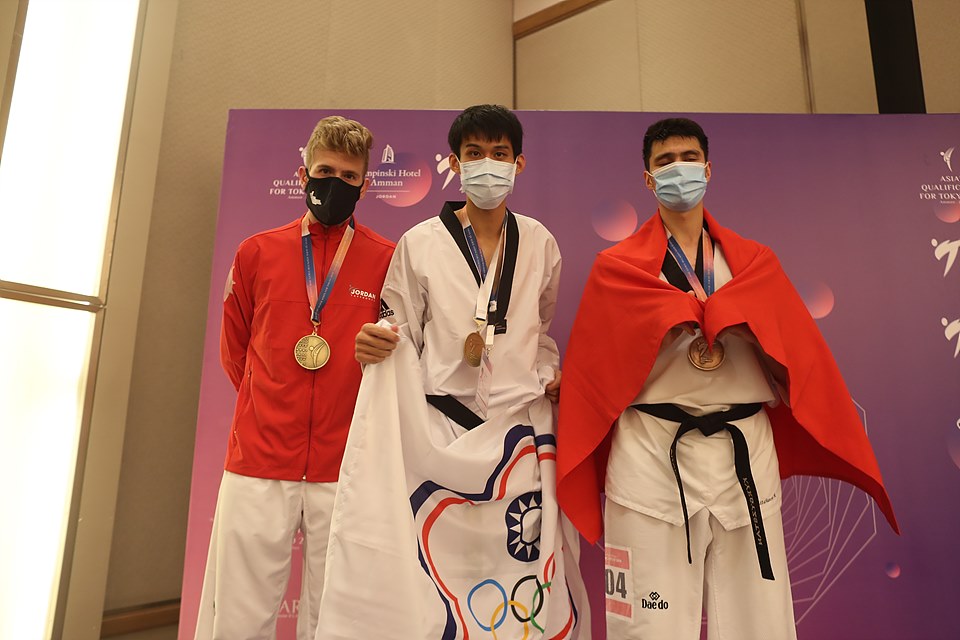 AMMAN, Jordan (May 21, 2021) - Chinese Taipei secured three Taekwondo places at the Olympic Games Tokyo 2020 on the opening day of the Asian Qualification Tournament with hosts Jordan and Uzbekistan both winning two places of their own. Vietnam won the remaining qualification spot.
In the women's -49kg it was Su Po-ya who kick-started Chinese Taipei's dominance as she overcame Iran's Mahla Momenzadeh, 23-4. Trương Thị Kim Tuyến won Vietnam's sole qualification place of the day as she beat Fariza Aldangorova of Kazakhstan, 26-12.
Jordan's first qualifying spot was won by Julyana Al-Sadeq, a previous Asian Games champion, who received a bye to the final. Uzbekistan's Nigora Tursunkulova, another Asian Games gold medallist, had to overcome Maram Fatnassi of Qatar to secure her country's Olympic place.
In the men's -68kg, Chinese Taipei continued their strong form in the tournament with Huang Yu-jen beating Ahmad Bahlool of Palestine 20-1 to qualify a place for his country. The second qualification place went to Uzbekistan's Ulugbek Rashitov who overcame Kairat Sarymsakov of Kazakhstan, 17-6.
In the men's -80kg home favourite Saleh Elsharabaty comfortably made his way into the final by beating Kyrgyzstan's Akbar Aitakhunov 36-6. Chinese Taipei's Liu Wei-ting secured the other Olympic spot as he overcame Khurram Mehtarshoev of Tajikistan, 19-1, in the second semi-final.
The Qualification Tournament will continue tomorrow with the final four weight categories.