WUXI, CHINA (Dec. 12, 2018) - The second World Taekwondo Grand Slam Champions Series exploded into action in Wuxi, China, as some of the sport's most high-profile athletes faced off in the preliminary rounds in four different weight categories.
A scintillating first day of action unfolded in the Wuxi Taihu International Expo Centre in front of a packed out, animated crowd. The world's best fighters, including the previous Grand Slam champion and gold medallists in each of the five Grand Prix events in 2018, competed in the women's -67kg, women's +67kg, men's -80kg and men's +80kg.
W-67kg
In the women's -67kg, number one seed and 2017 Grand Slam Champions Series winner Ruth Gbagbi of Ivory Coast convincingly set up a quarter-final fight with Hyeri Oh of South Korea, by overcoming Jie Song of China 2-0 in the best of three round. Taoyuan Grand Prix champion Paige Mc Pherson of USA and Manchester Grand Prix champion Lauren Williams of Great Britain will face off in the second quarter final after both athletes won their preliminary rounds 2-0. The other two quarter finals feature two Chinese stars, much to the delight of the home crowd. Yunfei Guo of China and Moscow Grand Prix champion Matea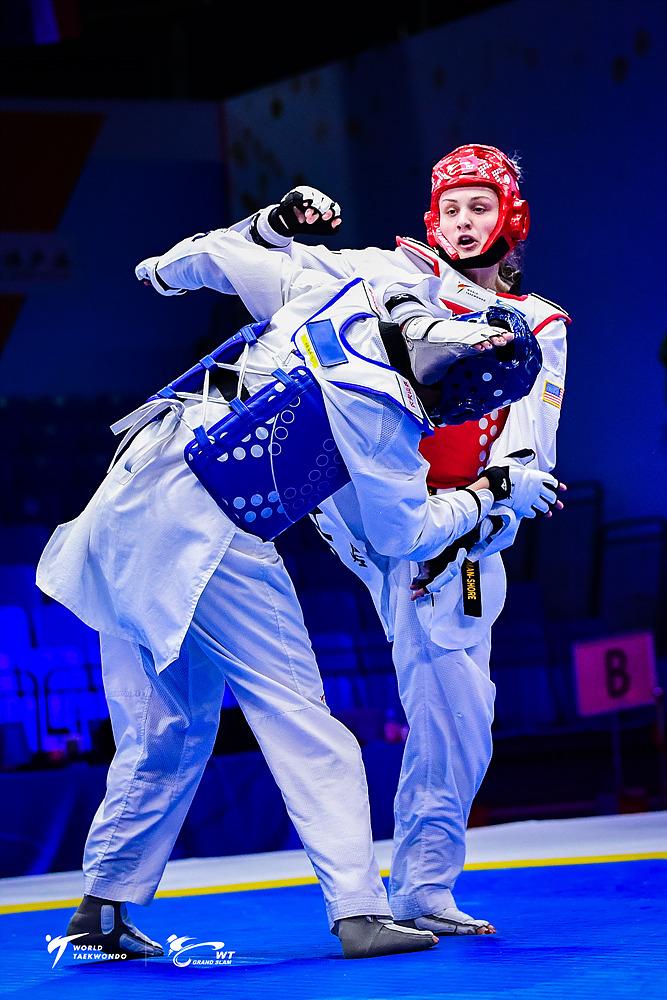 Jelic of Croatia, who beat Huimeng Dong of China and Haby Niare of France 2-0 respectively, will face each other in the next round. Rome Grand Prix champion Mengyu Zhang eased past Polina Khan of Russia to set up a match against number two seed Nur Tatar Askari, who had to overcome a golden point round against Pan Gao of China.
W+67kg
The women's +67kg preliminary rounds saw crowd favourite Chen Li of China narrowly defeat Raphaella Galacho of Brazil. Li is now paired against number one seed and pre-tournament favourite Bianca Walkden, who was given a bye. Huan Wang of China battled hard to beat Nafia Kus of Turkey 2-1 and will now face Aleksandra Kowalczuk of Poland, who won her preliminary round against Yaxin Liu 2-0. The third quarter final will feature an all-American matchup between Jackie Galloway and Madelynn Gorman-Shore. Galloway was given a bye in the first round, whilst Gorman-Shore beat Juan Shi of China 2-0. Rebecca McGowan of Great Britain overcame Cansel Deniz 2-1 to set up a fight against number two seed Shuyin Zheng of China, who was given a bye, in the last quarter final.
M-80kg
In the men's -80kg quarter finals, number one seed Maksim Khramtcov will face Nikita Rafalovich of Uzbekistan after Rafalovich beat Aaron Cook of Moldova and Khramtcov was given a bye. There will be an all-Chinese matchup between Linglong Chen and Ke Ren in the second quarter final. Chen beat Tsung Yeh Yang of Chinese Taipei in round one 2-1, whilst Ren beat Raul Martinez Garcia of Spain 2-0. Hwan Namgoong of Korea and Icaro
Migel Soares of Brazil also set up a quarter final fight, by beating Kai Wu of China 2-0 and Cheick Sallah Cisse of Ivory Coast in the first round respectively. The final quarter final will feature Milad Beigi Harchegani of Azerbaijan and Jiannan Huang of China as both fighters eased past their opponents with a 2-0 victory.
M+80kg
The final weight category of the day saw athletes compete in the +80kg. Number one seed Kyo-don In of Korea was given a bye to face Dmitriy Shokin of Uzbekistan, who beat Mahama Cho of Great Britain 2-0. Lutalo Muhammad of Great Britain eased past Radik Isaev 2-0, and will face Hongyi Sun of China, who beat Jintao Liu of China. Gil-young Byeon of Korea oversaw Qiang Xu of China by a score of 2-1 in round one. Byeon will now fight Sajjad Mardani of Iran, who narrowly defeated Stephen Lambdin of USA in a golden point round. The final quarter final will see Anthony Mylann Obame of Gabon face Zhaoxiang Song of China, both won their preliminary fights by a score line of 2-1.
The action continues tomorrow, as athletes compete in the round of 16 of the women's -49kg, men's -58kg, women's -57kg and the men's -68kg.