a
SEOUL, Korea (Dec. 25, 2017) – On paper, Great Britain's Bianca "Queen Bee" Walkden should sweep the female heavyweight category of the inaugural Grand Slam Champions Series – but in sport, there are no certainties.
Walkden has superb power, physicality, pace and technique. She also has confidence: She has just ended a perfect season, successfully defending her title at the World Championships in Muju, then winning every single Grand Prix of the year – in Moscow, Rabat, London and Abidjan (a feat no taekwondo fighter has ever pulled off before). To top off a golden 2017, she was named WT's "Female Player of the Year" at the annual Gala Awards in Abidjan, Cote d'Ivoire, but she is not quite finished yet: In accepting her award, she clearly stated her intention of winning the Grand Slam.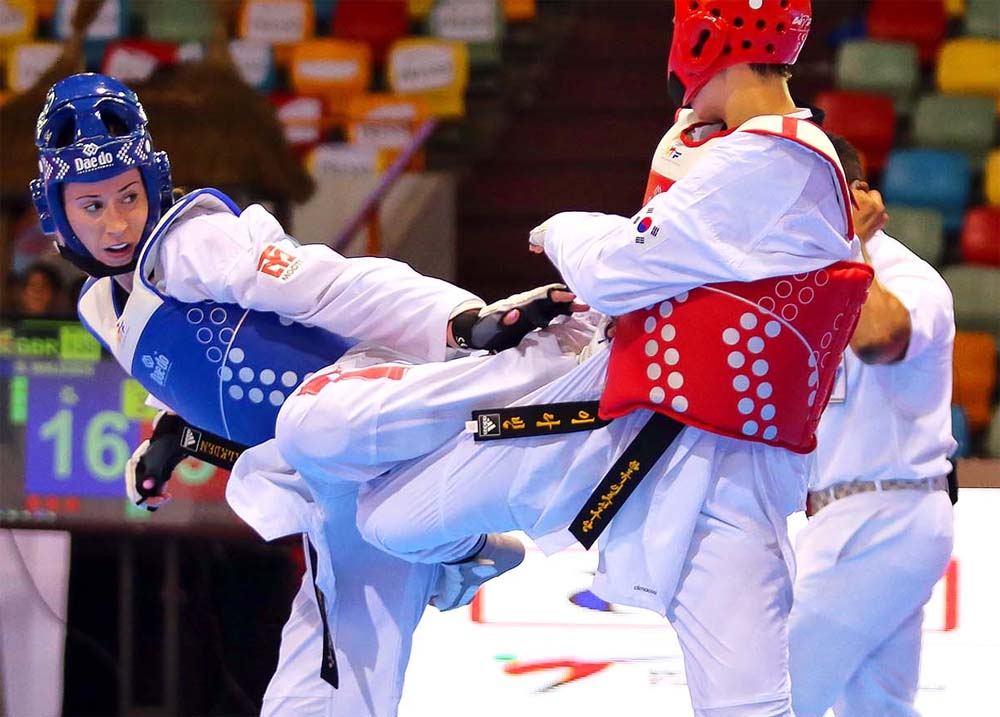 If she has no injury on the day, the Queen Bee is the very clear favorite to grab the USD70,000 prize for first place. Walkden is super quick and has excellent timing. She uses her front, right kick to maximum effect. If her opponent offers an opening after her front-leg attack, she can attack equally effectively with her rear leg or her punch. Her ambidextrous play is overwhelming, and she attacks as effectively to the head as to the body. All her opponents have studied her exhaustively, so she has consistently upgraded her game, increasing her head attacks and implementing an excellent anti-clinch game.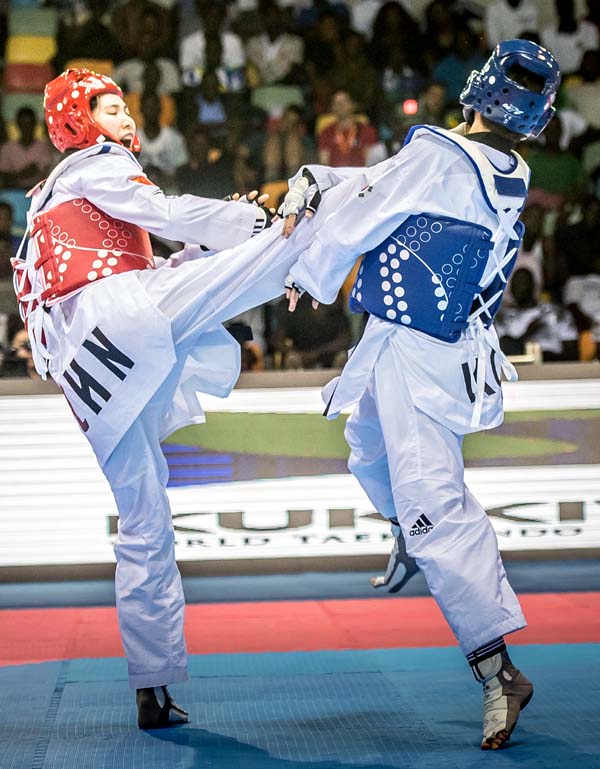 But one of the biggest rivalries in the game is Walkden's running battle with local heroine Shuyin "The Beautiful Giraffe" Zheng. The 2016 Rio Olympic champion and winner of the 2010 Youth Olympic Games, Zheng is the tallest female player in the category. The Chinese fighter's main weapon is her right-foot, front-leg kick, but with the changed rules implemented after the 2016 Olympics, her brand of "tall-kwondo" has not been able to prevail against Walkden. However, she has one big advantage: China is home turf for Zheng, and no sensible athlete, coach or pundit ever discounts home-town advantage.
Both Zheng and Walkden use their front leg to good effect, but the Queen Bee is also a master at changing position and is more ambidextrous. She has a solid side kick and punch combination attack, and picks up more and more points as the rounds progress. Moreover, she has been looking stronger and stronger after every tourney this year and her extraordinary record of success in 2017 must, surely, impact the confidence of her opponents.
Serbia's Milica Mandic is the player who looks most likely to cut short Walkden's winning streak. She is the 2012 Olympic gold medalist and 2017 World Champion (Note: there are twice as many weight categories in the World Championships as in the Olympics and Grand Prix Series) Though she is slower than the Queen Bee, she matches her in strength and tactical smarts, and outmatches her in experience.
The British player always talks about the Serbian with great respect and it is notable that, on the mats, the taller Walkden does not attack Mandic as fiercely as she does other fighters. This is likely because Mandic is flexible and canny, with a game-winning head-kick counter attack. If these two fight, it will go down to the very last second. The winner will be decided on whether Walkden can successfully counter Mandic's front leg.
Overall, the amended rules of the Grand Slam look likely to favor Walkden, who has an effective spinning kick and is a power kicker. The Queen Bee is also an offensive fighter who often drives her opponents off the mats. The new rules gives attacking fighters the advantage – and Walkden is most definitely an attacker.
Finally, the Queen Bee may well have one more very special advantage up her sleeve in Wuxi. Her long-term boyfriend, Aaron Cook of Moldova, will be fighting in the men's -80kg category on the same day. His presence is likely to spur her on to maximum efforts.