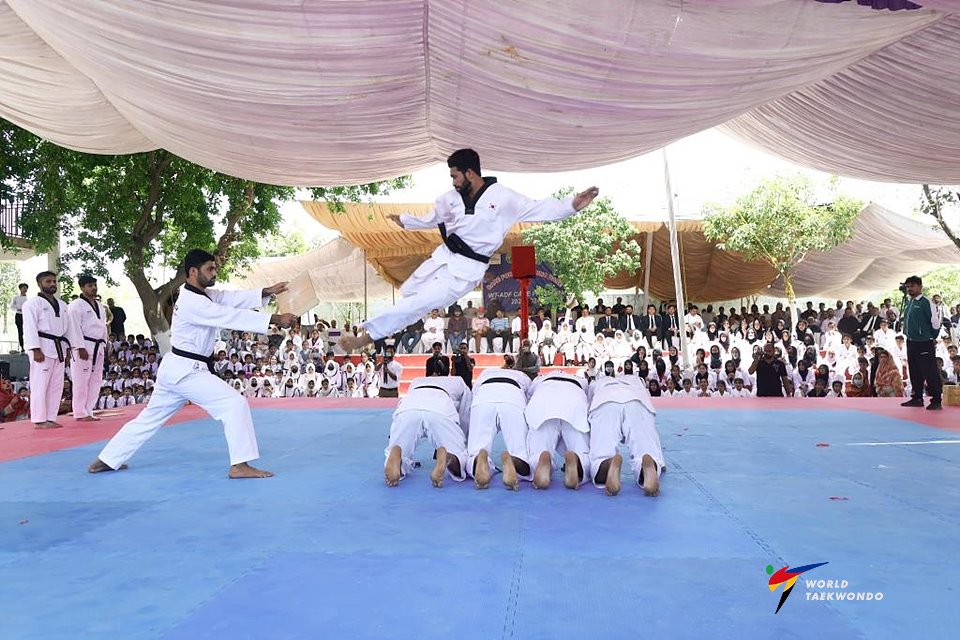 PUNJAB, Pakistan (Jun 5, 2023) - An opening ceremony was held in Pakistan for the 2023-2024 WT-ADF Cares Program on June 5, 2023, with extensive media coverage.
The ceremony, which took place at Iram Model School & College in Kahuta, Rawalpindi district of the Punjab province, drew about 900 people, including about 300 Cares students and their parents as well as local community members and ranking officials.
Among the attendees were Lt. Col. Raja Wasim Ahmed, president of the Pakistan Taekwondo Federation; and Mrs. Iram Sikander, principal of Iram Model School & College.
Under the theme "Care for Those Who Dare," the 2023 WT Cares Program for Pakistan started on May 1, 2023 for a one-year period, which is to benefit about 1,000 people, mostly orphans and school students, in the province of Punjab and the vicinity of Territory Islamabad. For the one-year Pakistan project, the Asia Development Foundation (ADF) is financially supporting.
The opening ceremony attracted extensive media coverage in Pakistan, with several prominent media channels such as PTV World, Express News, Geo News, Nawa-i-Waqt and local media documenting the event. Leading national news outlets, television networks, and online platforms dedicated significant coverage to highlight the significance of the WT Cares Program and its inaugural ceremony.
"I am honored to be here today to inaugurate the World Taekwondo Care Program in Kahuta. This program is a joint initiative of the Pakistan Taekwondo Federation, World Taekwondo, Iram Model School & College Kahuta, and Asia Development Foundation," Lt. Col. Ahmed said during the opening ceremony.
"It is a testament to the commitment of these organizations to providing opportunities for young people in Pakistan to learn and grow through the sport of taekwondo particularly for remote areas." "Taekwondo is a great way for young people to stay active, learn discipline, and develop self-confidence. It is also a great way to build relationships and make friends. The World Taekwondo Care Program will provide young people in Kahuta/Kallar Syedan, Rawalpindi and Haripur with access to taekwondo training, equipment, and competition opportunities. It will also provide them with educational and leadership training."
Mrs. Sikander said in her speech that "We feel honored to have this opening ceremony here in Kahuta. I, as principal of Iram Model School & College, am grateful and obliged to have a successful management of the World Taekwondo Cares Program and thankful for the ADF for giving this opportunity to my young students."
She said, "the Cares Program will serve the community as the Olympic sport of taekwondo teaches us the most important segments in life such as respect, discipline, sportsmanship, self-confidence, peace, and self-satisfaction." "My best prays are with the team for the World Taekwondo Care Program for doing wonderful jobs in uplifting the lives of young kids. I am positive to look forward to have more such kind of programs in my area of responsibility."