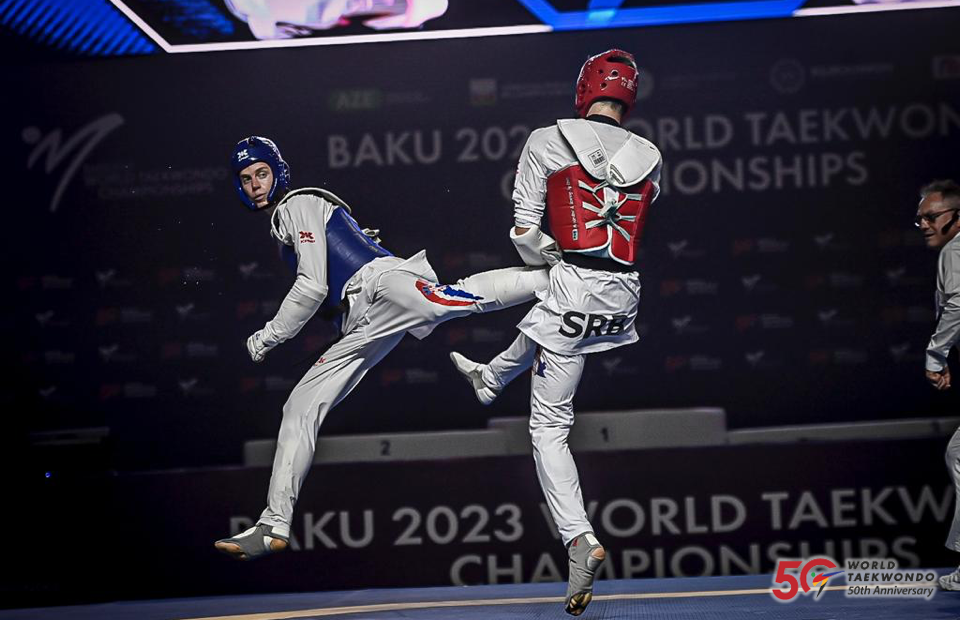 BAKU, Azerbaijan (Jun 4, 2023) - The penultimate day of the Baku 2023 World Taekwondo Championships brought a second gold for Croatia as Marko Golubic won the men's -74kg and a gold for Individual Neutral Athlete (AIN) Liliia Khuzina in the women's -62kg.
AIN Khuzina arrived in Baku having never competed at a senior World Championships before but did not appear daunted by the occasion and performed impressively to win her first world title. Silver was won by Manchester 2019 World Championships silver medallist Caroline Santos from Brazil. Bronze medals went to Great Britain's now three-time World Championships bronze medallist Aaliyah Powell and World Championships bronze medallist Feruza Sadikova.
Golubic finished fifth at the World Championships in Guadalajara and had not won gold at a senior World Taekwondo promoted event before but in Baku made it a tournament to remember with gold. The silver medal went to Serbia's Stefan Takov and the bronze medals were shared by Australia's Leon Sejranovic, who became the first Australian male to win a World Championship medal since Edmondon World Championships in 1999, and AIN Kadyrbech Daurov.
Women's -62kg
In the women's -62kg final, Khuzina faced number 2 seed Santos. Two Gam-jeoms gave Santos a two point lead at the beginning of the first round. A front leg head shot from Khuzina saw her leapfrog Santos and go 3-2 up. A successful video review on a head kick won Khuzina the round 6-2. Khuzina's active front leg again kept Santos at bay in the first half of the second round. Both fighters landed kicks simultaneously with Khuzina landing a head shot and Santos a kick to the body to take the score 6-2 to Khuzina. The last 20 seconds sprung into action with Santos landing a hook kick and forcing a Gam-jeom to bring the scores level to 6-6. Santos was set to take the match to a third round courtesy of a higher number of registrations but a kick to the body from Khuzina in the dying seconds won her the gold with a final score of 8-6.
In the first semi-final it was Khuzina versus Powell. Khuzina dominated the early exchanges but it was Powell who won the round 9-6. Khuzina regrouped in the break and came out strong strongly in the second to win 11-3. Powell had no answer to Khuzina's active front leg and Khuzina won 7-0. In the second semi, Santos started the match aggressively and exerted her dominance with a 12-0 win. Sadikova changed tactics in the second to win 8-5 but Santos stepped it back up in the last round winning 10-4.
Men's -74kg
It was number four versus number five in the men's -74kg final. Both fighters looked to establish their distance in the early exchanges. Golubic pressured Takov out of the court to take a 1-0 lead courtesy of a Gam-jeom. Golubic tried to close the distance and landed a punch only for Takov to perfectly execute a hook kick to the head to take a 3-2 lead. A roundhouse kick to the body from Golubic in the closing seconds restored his lead and gave him a 4-3 win. Both fighters got early points in the second round with Takov leading 5-2. Golubic defending with the knee earned him a Gam-jeom to extend Takov's lead. A back leg kick to the body from Golubic brought the scores to 5-5 temporarily before Takov returned with a body kick of his own. A push kick was enough win the round for the Serbian 9-6. In the decisive round three body shots gave Golubic a six point lead with just under a minute to go. Tako scored a two point shot of his own but a front leg twist kick extended Golubic's lead again. A late spinning kick from Takov tied up the scores 8-8 with two seconds to go but it was not enough as Golubic won gold due to a higher number of registrations.
In the first semi-final Golubic met Sejranovic. A commanding first round display saw the Croatian win 21-4. In the second round he quickly established control scoring seven points in the first six seconds. Sejranovic threatened to level proceedings bringing the score within one point but Golubic pulled away once again winning 15-9. The second of the semi-finals brought together Takov and Daurov. Takov appeared in control in the first round winning comfortably 7-1. Daurov fought well in the second round but Takov was able to register a narrow 4-3 victory.
The final day of the World Taekwondo Championships will take place tomorrow with the men's +87kg and women's -53kg.