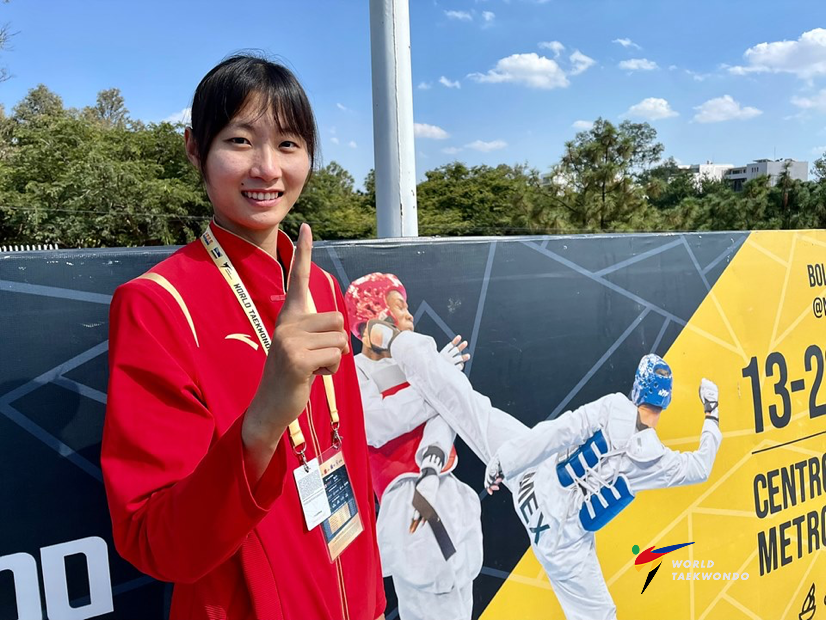 GUADALAJARA, Mexico (Nov. 20, 2022) - Zongshi Luo did not find Taekwondo. Taekwondo found Zongshi Luo.
"When I was 11 or 12, in elementary school during a math class, a coach was walking outside the classroom and he saw me and came in and said, "Stand up' to see my height," Luo recalled. "Then the coach talked to my father to see if I would like to train Taekwondo."
Hopefully, someone will give that coach a cookie, because his eye was spot on. On the evening of Nov. 14, the little girl he had scouted - now a 24-year-old mainstay of Team China - was in the finals of the W-57kg World Championship category in Guadalajara.
After disposing of double Olympic gold medalist Jade Jones of Great Britain in a hard-fought semifinal match, Luo faced off against Chinese Taipei's Chia-ling Lo. The two are almost mirror images of each other: tall, slim, leggy fighters.
Combat commenced with a feeling-out process, both fighters exchanging probing kicks at range, closing, and trying to land in the clinch. It ended 2-1 to Luo.
The second round continued in like fashion, with the two fighters – as similar in technique as in physique - cancelling each other out.
Though the points at the end of the second were even at 1-1, Luo took the round, the match and the gold on superiority.
"The final was the best, because the body condition during that time was the best, I was in perfect condition," she said. But, "the tougher fight was Jones."
Though she describes herself as a "shy girl," Luo, the top-ranked player in her category, is a Taekwondo phenom. World Champion is hardly the first honor she has won.
Before Covid-19 closed down much of the world and the competition circuit, she had stuffed her trophy cabinet to the brim. It contained one Grand Prix, one Grand Slam and multiple Open golds, as well as a host of slightly less precious metals.
The nearly-two year break from competition necessitated by the pandemic her coach worked to precision engineer Luo's body machine to an ever-more perfect pitch. Luo, meanwhile, shifted her mental focus from fighting to training.
"During those two years, I wanted to go to competitions but I could not," she said. "So I treated every day's training as a competition."
The two-years of in-depth personal and team training paid off. After Covid-19 and the resurrection of competitions, Luo has – like a coiled spring that suddenly de-compresses – been on a gold rush.
This year has delivered her first-place wins not just in Guadalajara, but in all three of 2022's Grand Prix, and also at the Asian Taekwondo Championships.
Her next destination is the Grand Prix Final in Riyadh, but though she says, "Absolutely, I want to be in Paris" she is taking all things step by step. That is an approach she extends to competition preparation and fight management.
"Before a competition, I don't think about the end result, I focus on the process of the competition," she said. "I don't care about the results - if you think about the score or the result, that may affect your performance."
A native of Beihai, a coastal city in China's southwest knows what makes her good – which mirrors what the scout saw when he spotted her in elementary school.
"My strong point is that I am taller than most fighters in the category and I have long legs," she said. In terms of technique, "The head kick is my best move."
Any weak points? "I don't want to tell anyone! It's a secret!
But this grinding process of training and fighting, fighting and training must be tough. Asked about her hobbies and interests outside the game, Luo says only that she likes to watch movies.
"Entering the field of Taekwondo, I think was some kind of destiny, I never thought I could have gone this far," she mused. "I have a sense of mission, that is not only for my own sake, but also for my country and our team."
That sounds like a heavy burden to bear. So, looking back: Does she regret her father's assent to let her train Taekwondo all those years ago?
"Oh no," she said. "I am very happy with that decision!"