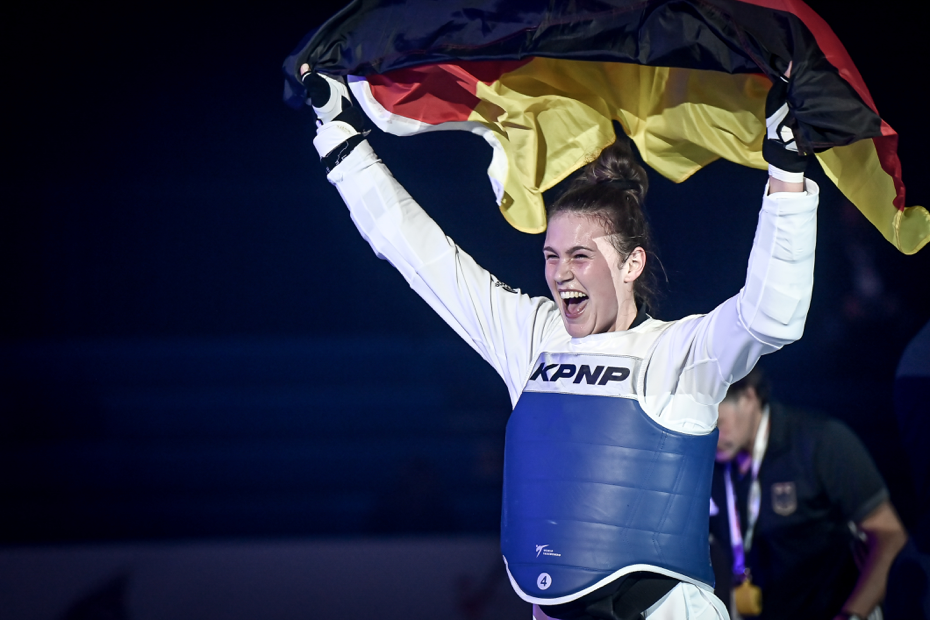 Lorena Brandl claimed a historic gold medal for Germany at last month's World Taekwondo Grand Prix Manchester 2022 and recently sat down with the German Taekwondo Federation to discuss what it takes to top the podium.
Brandl's journey to gold in the women's +67kg competition was not without its challenges. Still recovering from an injury at the European Taekwondo Championships in May.
"I was not yet 100% Lorena, and it wasn't until June onwards, at the Grand Prix in Rome, that things started to get better," said Brandl.
At the Grand Prix in both Rome and Paris, Brandl missed out on the medals, finishing fifth. But like any true champion, she was determined to reach the top.
"I just missed out on the medals, twice. But this showed me that there wasn't much missing anymore until I would reach the next step! So I continued to train hard for the Grand Prix in Manchester. Together, with my coaches, we optimised our weekly plans. My goal was to finally achieve a medal!"
Brandl recognises the arrival of Germany's new national coach, Balazs Toth, as a positive influence alongside her club coach, Bernhard Bruckbauer, who has trained her since the beginning. "Balazs Toth has helped me to improve even more. He has really worked out a good concept and has brought new and helpful exercises."
She had to overcome a familiar opponent in her Grand Prix in Manchester, Bianca Cook. But feeling physically fit and mentally strong, it was to be Brandl's story of redemption. She commented:
"It was just my day. I was so focused and mentally very stable! This was also my strength against Bianca. I wanted to finally win this fight against her, and I knew I was ready for it. Of course, it was a very tough fight, but I was so focused and very well prepared thanks to Balazs and Bernhard."
Brandl has also worked with Antje Heimsoeth, a mental coach, over the past two years to better learn how to cope with the psychological pressure of elite sport.
Germany's Taekwondo star is now fully focused on her preparations for the 2022 World Taekwondo Championships in Guadalajara, Mexico from 13 to 20 November, and welcomes the added expectation for success, stating: "Welcome to the world of pressure!"
Picture by: Tatjana Scheidt/DTU