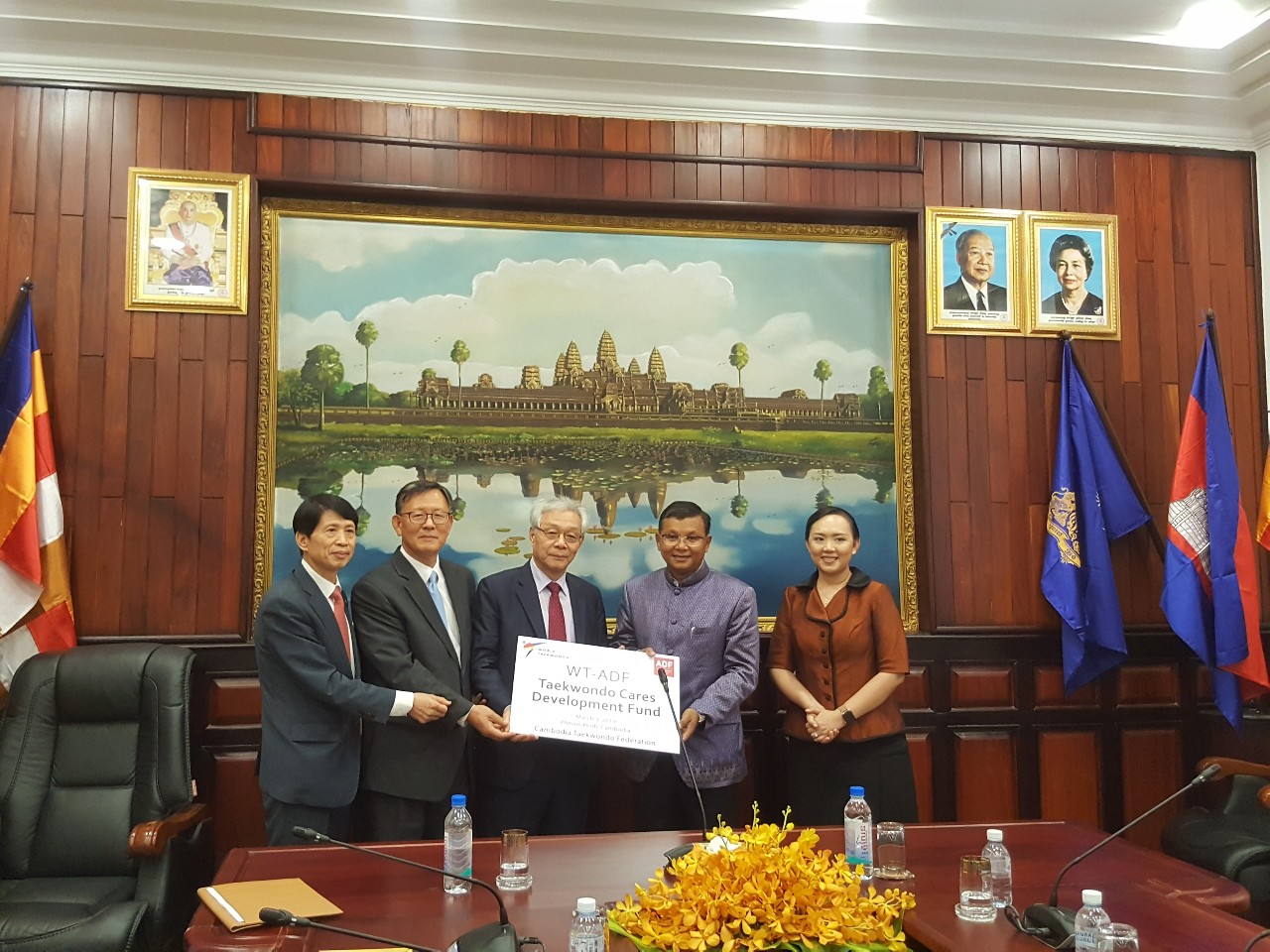 PHNOM PENH, Cambodia (Mar. 10, 2019) - World Taekwondo (WT) and the Asia Development Foundation (ADF) delivered a taekwondo development fund and university student scholarships to Hang Chuon Naron, minister of Cambodia education, youth and sport, in a ceremony at the Education Ministry in Phnom Penh, Cambodia on March 9, 2019.
The $24,000 taekwondo development fund was handed over by ADF Executive Director Cho Nam-chul and Seok-jae Kang, senior consultant for WT Taekwondo Cares Program, to the Cambodian education minister, who also serves as president of the Cambodian Taekwondo Federation.
On January 25, 2019, the ADF gave WT 100 million Korean won (about $90,000) in designated donation, which should be used for the WT Taekwondo Cares projects to help empower the disadvantaged in Asian developing countries. WT plans to use the donation for free taekwondo education and training in Cambodia, Nepaland Sri Lanka, among others.
At the ceremony, the ADF also delivered the Cambodian education minister scholarships for 33 selected university students. They will receive $500 per year for four years. If the students want to continue their education after graduation in Korea, the ADF executive said that he considers offering them scholarships.
The ceremony drew 33 scholarship recipients and such dignitaries as Korean Ambassador to Cambodia Oh Nak-young; Kim Sethany, vice education minister of Cambodia and co-president of GCS Cambodia National Chapter; and Robert Hwang, co-president of GCS Cambodia National Chapter.
In the ceremony, Korean Amb. Oh said, "this event is very meaninhful as it takes place just less than one werk before Korean President Moon Jae-in's state visit to Cambodia and I wish to thank WT and the ADF for their 'ODA' projects in Cambodia."
ADF Executive Director Cho said, "besides the taekwondo development and scholarship projects, the ADF positively considers such projects as medical and Korean language education in Cambodia."
The Cambodian education minister said, "I sincerely thank WT President Chungwon Choue and the ADF for initiating these good programs, which will greatly help develop taekwondo in Cambodia and cement bilateral relations between Cambodia and Korea."