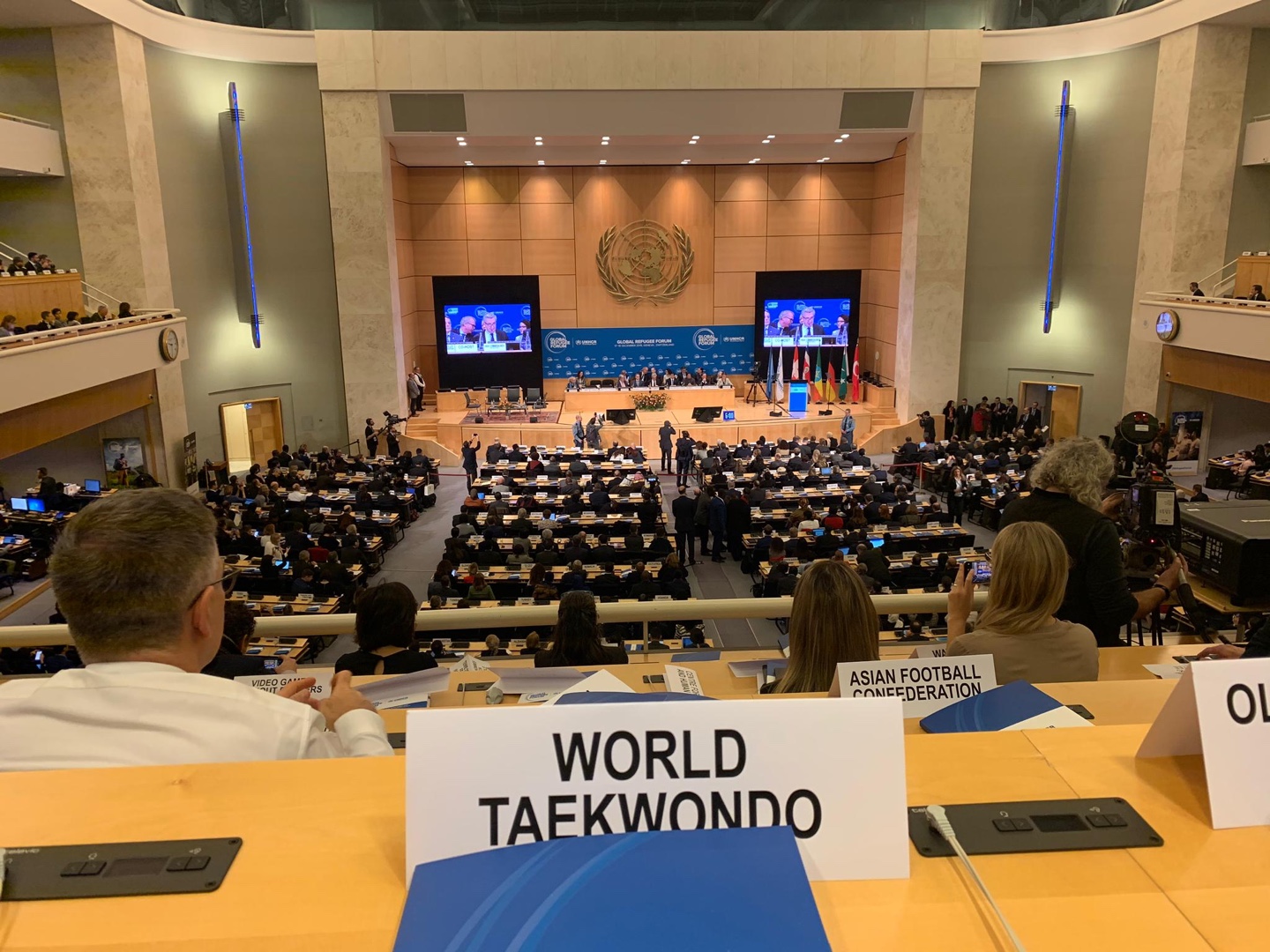 GENEVA, Switzerland (December 17, 2019) – World Taekwondo, united with 81 signatories across the global sports movement, has pledged its commitment to support refugees through sport, during the first-ever Global Refugee Forum at the Palais Des Nations in Geneva, Switzerland.
World Taekwondo was only one of two International Federations (IFs) invited by the United Nations High Commissioner for Refugees (UNHCR) to the inaugural Forum along with the International Table Tennis Federation (ITTF). Both organisations were invited in reflection of their ongoing commitment to refugees through their respective humanitarian organisations.
As a signatory of the UNHCR-IOC Sports Coalition pledge, World Taekwondo representatives joined key stakeholders from Governments, NGOs and the private sector at the Forum. IOC President Thomas Bach and Olympic Refuge Foundation (ORF) Chair addressed delegates at the Forum and reiterated the IOC and sport coalition's support for refugees.
Just last week, World Taekwondo President, Chungwon Choue, spoke at the Peace & Sport Forum in Monte Carlo, where he joined a panel of esteemed guests, such as the Director of External Relations for the UNHCR, Dominique Hyde, on the topic of "Sport for the Global Compact of Refugees."
World Taekwondo works tirelessly to develop opportunities for refugee children through initiatives such as the 'Taekwondo Cares' programme in Cambodia, Nepal and Sri Lanka.
The Taekwondo Humanitarian Foundation (THF) trains refugee children from underprivileged areas, the art and values of inclusiveness, tolerance and respect through taekwondo.
The THF has signed seven MoUs with both Olympic and non-Olympic international federations as part of its commitment to address the global crisis of displaced people. WT hopes to sign MoUs with more international federations next year as the sports world unites on this pressing issue.
WT and THF are both signatories of the coalitions and will continue to contribute on the implementation of the pledges together.