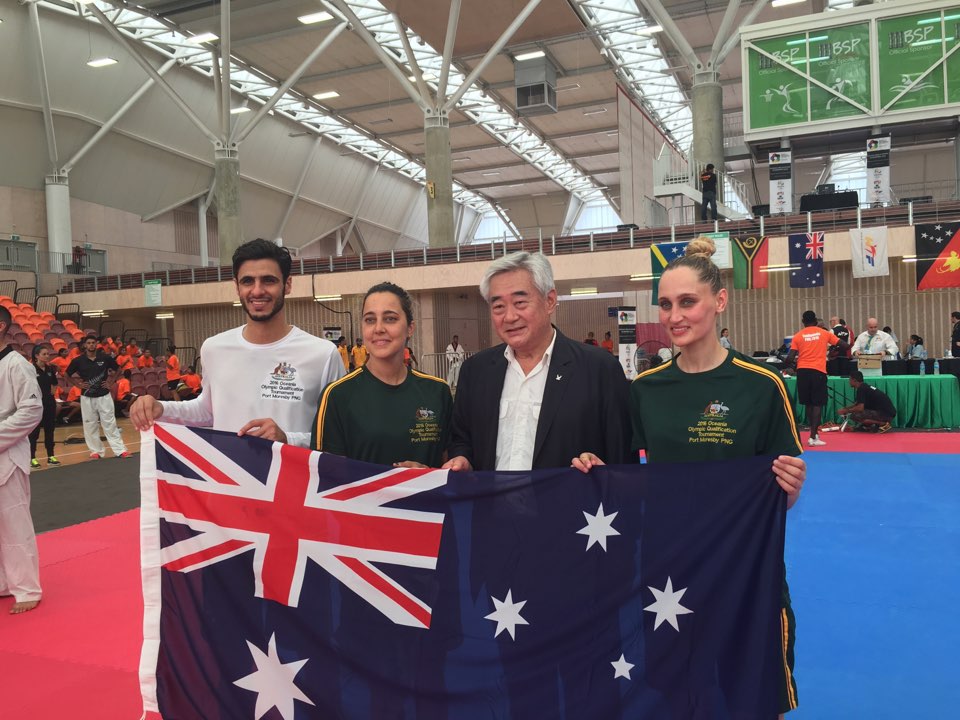 PORT MORESBY, Papua New Guinea (February 27, 2016) – WTF officials like to talk about the "global taekwondo family," but in the Oceania region, high-kicking families are leading the sport – literally.
The Oceania Qualification Tournament for the Rio Olympics, held in Port Moresby, Papua New Guinea, was almost a family affair, as two Australian sisters, one of the sister's husbands and a Papua New Guinean aunt-nephew combination all won quota places for the Rio Summer Olympics.
Eight athletes – four from Australia, two from Papua New Guinea and one each from New Zealand and Tonga – won Rio berths at the tournament.
Sisters Caroline and Carmen Marton, together with Carmen's husband Safwan Khalil, all won Olympic places for Australia. Caroline Marton won a berth in the female -57kg category, Carmen Marton captured a spot in the female -67kg division, while the latter's spouse, Safwan Khalil, won a place in the male -58kg category.
All three are coached by Ali Khalil, Safwan's brother.
Meanwhile, Papua New Guinea's Samantha Kassman won a place in the female -67kg category; on the same mats, her nephew Maxemillion Kassman captured a berth in the male +80kg division.
Rounding out the winners were Andrea Kilday of New Zealand (women's -49kg) Hayder Shkara of Australia (male -80kg) and Pita Taufatofua of Tonga (male +80kg).
In Rio, 128 taekwondo fighters, fighting in eight weight categories, will do battle for Olympic medals between 17-20 August at Carioca Arena 3, in the city's Barra Olympic Park.
The first tranche of fighters won quota places for Rio via ranking points following the World Taekwondo 2015 Grand Prix Final in Mexico City, Mexico, last December, though no Oceania fighters were among them.
Since then, additional berths have been won at the European, African and Oceania Continental Qualification tournaments; the Asian and Pan American Continental Qualification Tournaments are pending. Brazil benefits from four host places, and four wild cards will be distributed.
After national selectors have made their final decisions, the names of all taekwondo athletes to go through to Rio will be published on the WTF website on or after July 18.
The Result of the "Oceania Qualification Tournament 2016 for the XXXI Olympiad"
OCEANIA
Weight
Rank
Name
NOC
W-49kg
1
ANDREA, KILDAY
NZL
W-57kg
1
CAROLINE, MARTON
AUS
W-67kg
1
CARMEN, MARTON
AUS
W+67kg
1
SAMANTHA, KASSMAN
PNG
M-58Kg
1
SAFWAN, KHALIL
AUS
M-68Kg
1
MAXEMILLION, KASSMAN
PNG
M-80Kg
1
HAYDER, SHKARA
AUS
M+80Kg
1
PITA, TAUFATOFUA
TON