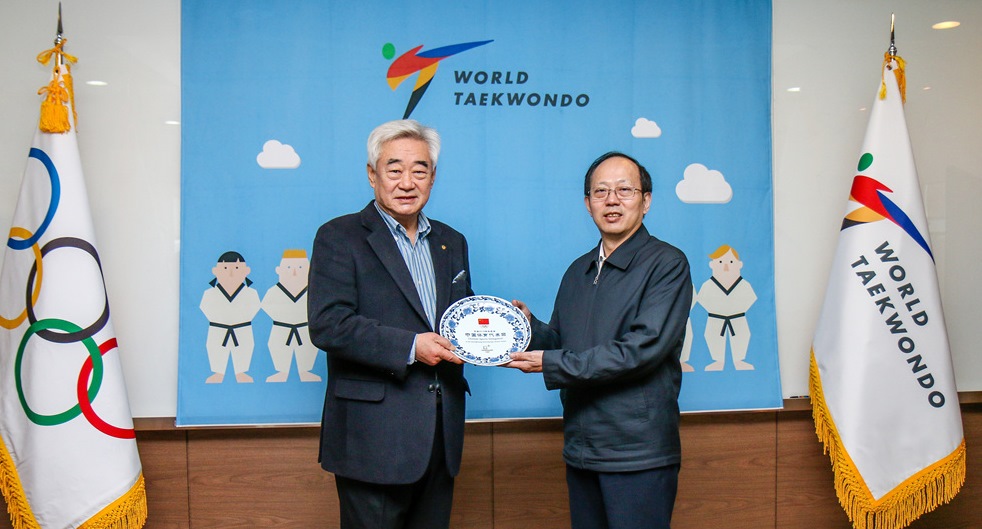 SEOUL, Korea (Feb. 28, 2018) – World Taekwondo President Chungwon Choue welcomed a senior Chinese Olympic Committee (COC) delegation, led by Gou Zhongwen, Chinese Olympic Committee President and Minister of the General Administration of Sport of China, to the World Taekwondo headquarters in Seoul on Feb. 24, 2018.
During the meeting, the two Presidents discussed the development of taekwondo in China and the success of the inaugural World Taekwondo Grand Slam Champions Series which was held in Wuxi, China between December 2017 and January 2018.
The annual Grand Slam Champions Series will be held in Wuxi for the next two editions and was established by World Taekwondo and Chinese authorities to take the sport to the next level with greatly enhanced TV production values and fan engagement. The event is open to the world's very best athletes and showcases new rules designed to make the combat even more exciting.
COC Secretary General, Song Keqin, and Deputy Director General of the General Office of the General Administration of Sport of China, Li Hui, were among the COC delegation, with Vice President of WT Grand Slam Champions Series Organizing Committee, Sun Dejun to attend the meeting.