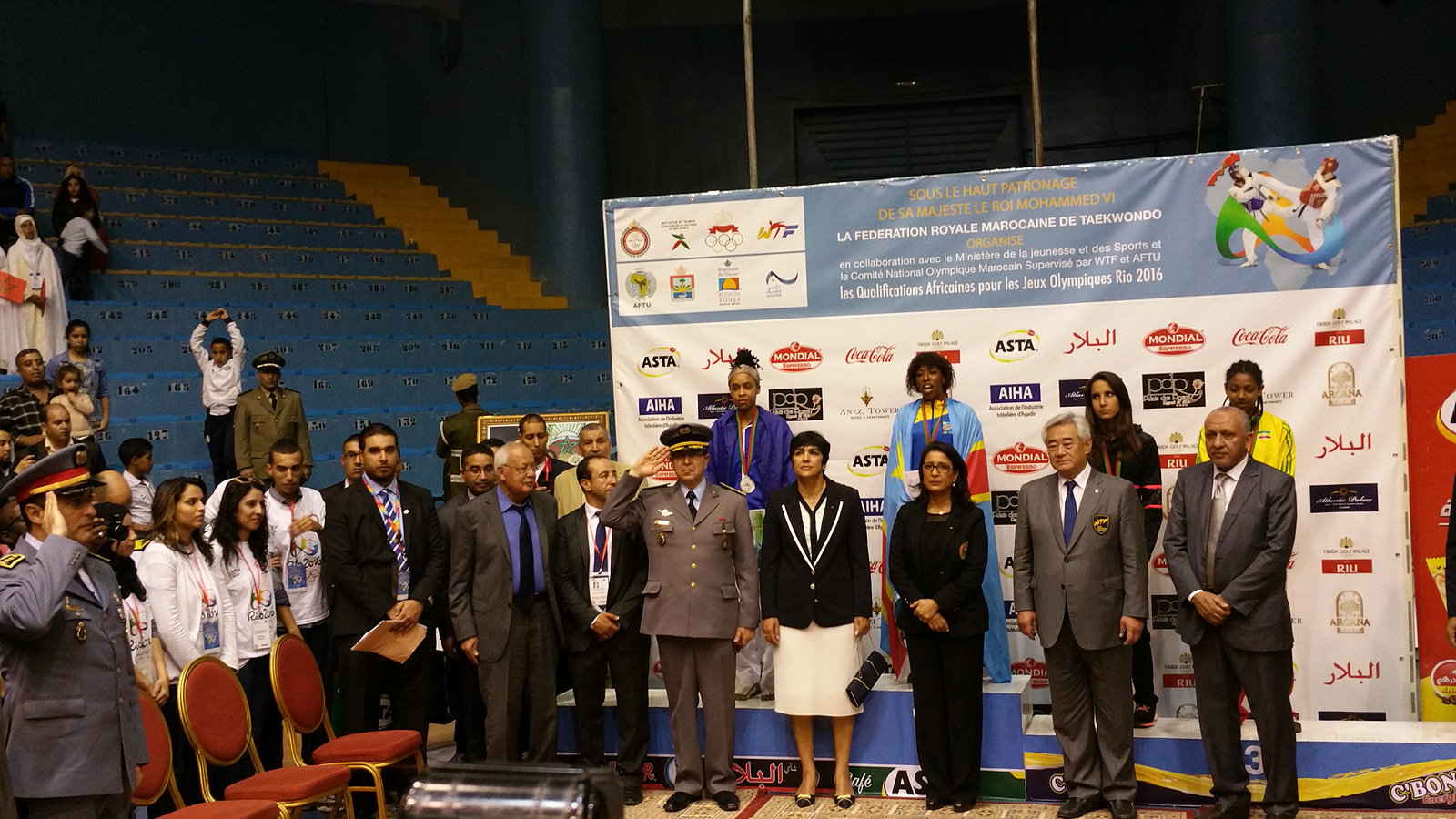 Cape Verde and D. R. Congo will be participating for the first time in Taekwondo at the Olympics
The first day of the African Continental Qualification Tournament was full of surprises and eight different countries obtained the Olympic berths available for Rio 2016 on the tournament held at Agadir City, Morocco.
The two most remarkable berths are those obtained by Cape Verde and D. R. Congo, countries that will be participating for the first time in Taekwondo at the Olympics. Both got the spot on the female -49 kg category.
The other six countries that got a spot are Libya, Niger, Tunisia, Cote D`ivoire, Egypt and the host Morocco. Only two of them had earned a spot through ranking so there are now 38 different nationalities assured for Taekwondo at Rio 2016.
These are the athletes that obtained berths for their countries:
Weight
Rank
Name
NOC
F-49kg
1
KELEKU, ROSA
CGO
2
ANDRADE, MARIA
CPV
F-57kg
1
2
F-67kg
1
GBAGBI, RUTH
CIV
2
ELSAWALHY, SEHAM
EGY
F+67kg
1
2
M-58kg
1
HAJJAMI, OMAR
MAR
2
SHRIHA, YOUSEF
LBA
M-68kg
1
2
M-80kg
1
2
M+80kg
1
TRABELSI, YASSINE
TUN
2
ISSOUFOU, ABDOUL
NIG
This Sunday the competition at Agadir City will continue with the four remaining categories and eight more Olympic Berths available. The males will compete on the -68 and -80 kg weights and the female in the -57 and +67 kg classes.
A total of 84 athletes from 29 countries are participating in the African Qualification Tournament for Rio 2016.
This is the second Continental Qualification Tournament, after the European area already defined their participants on January 16-17.
The Continental Qualification events qualify the second tranche of taekwondo athletes for the Olympics. Forty-eight elite fighters have already won quota places for Rio via ranking points.
After the Morocco Tournament, the WTF's remaining Continental Unions – Pan America, Oceania and Asia – will be holding their respective Continental Qualification Tournaments in the first quarter of 2016. Each one offers 16 spots to the Rio Olympics, except for Oceania, which is allotted eight.
A total of 128 taekwondo athletes will compete in Rio. In addition to those berths won through ranking points and via the Continental Qualification events, there are eight additional Rio. Four host country places automatically go to Brazil, and four wild cards will be decided upon and distributed at the conclusion of the Continental Qualifications.
The dates and locations of the remaining Continental Qualifications Tournaments are:
– Oceania Qualification Tournament for Rio 2016 Olympic Games
Port Moresby, Papua New Guinea, February 27
– PanAm Qualification Tournament for Rio 2016 Olympic Games
Aguascalientes, Mexico, March 10-11
– Asian Qualification Tournament for Rio 2016 Olympic Games
Manila, Philippines, April 16-17