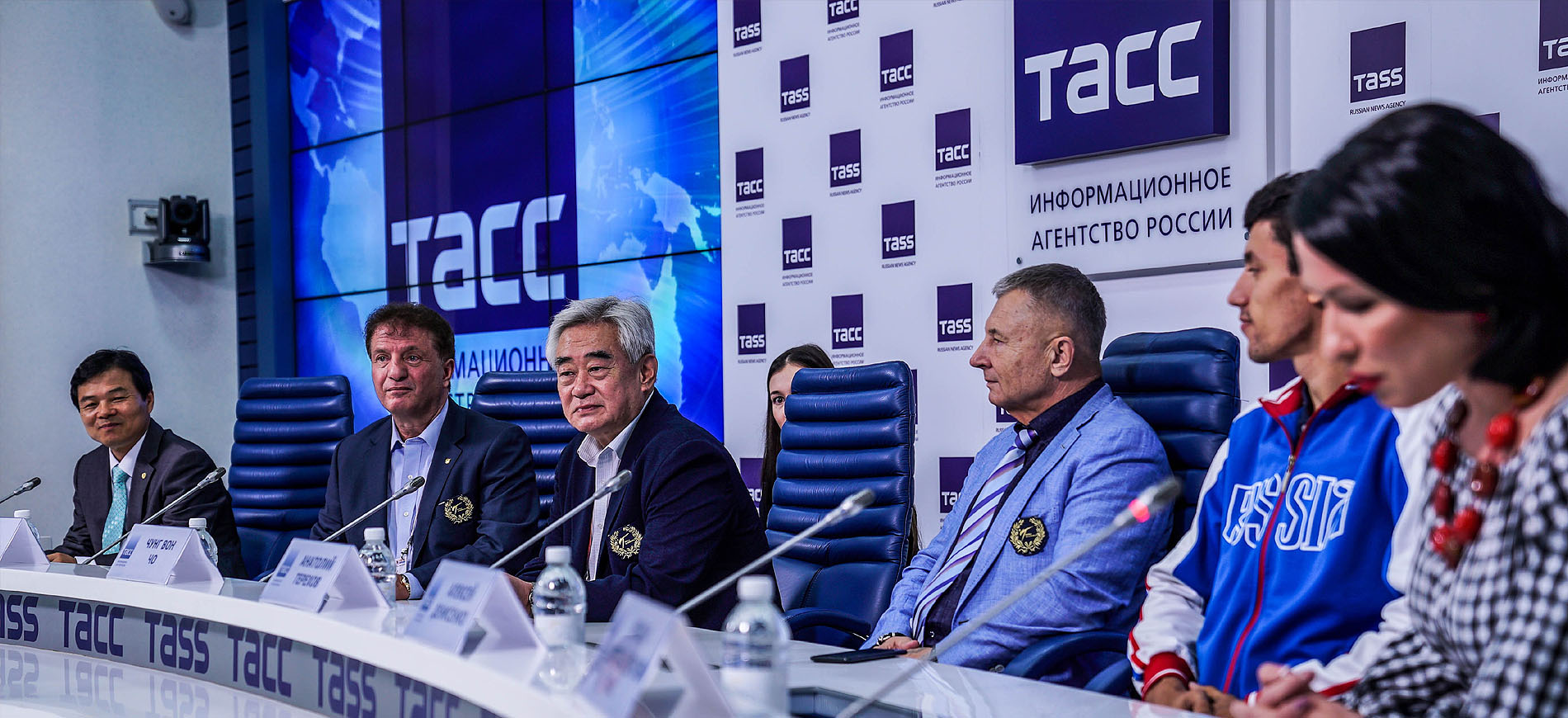 MOSCOW, Russia (August 4, 2017) –World Taekwondo and the Russian Taekwondo Union today held a joint press conference at the headquarters of the Russian news agency, TASS, in Moscow as national and international journalists were given the opportunity to speak to the organisations' leadership ahead of the Moscow 2017 World Taekwondo Grand Prix.
World Taekwondo President Chungwon Choue was joined by World Taekwondo Secretary General Hoss Rafaty and World Taekwondo Technical Delegate, Jin Yang Bang as well as Russian Taekwondo Union President Anatoly Terekhov and Russian taekwondo athlete Alexei Denisenko.
Speaking at the press conference, World Taekwondo President Choue said:
"We are very happy to be here for the season opening event in Moscow. Under the leadership of Russian Taekwondo Union President Anatoly Terekhov, Russian taekwondo is developing more and more and many countries are now afraid of Russian teams! Russia did a wonderful job in Rio and at our recent World Championships, where a record number of countries took part.
"We are a family of 208 + 1 member nations; plus one because World Taekwondo is taking care of the refugee athletes. That makes use one of the largest Olympic federations in the world. This international popularity of our sport means taekwondo can play an important role in contributing to peace and society. We saw that at the World Championships as the ITF Taekwondo demonstration team performed with the World Taekwondo demonstration team and we have also seen it through the Taekwondo Humanitarian Foundation."
World Taekwondo Secretary General Rafaty spoke of the importance of all taekwondo's members. "The beauty of taekwondo is that no one can predict what the outcome of a match will be," he said. "At Olympic Games we have seen eight gold medals won by eight different countries. We have also seen many countries win their first ever Olympic medals in taekwondo. Taekwondo is a sport of body and mind and so if the mind of the athlete is not in the right place at the right time it can cost them dearly. This is why all our member national associations are equally important to us."
World Taekwondo Technical Delegate Jin Yang Bang concluded the opening remarks by taking about the importance of the Grand Prix series for Olympic qualification and the new rules that will be implemented here in Moscow. "This Grand Prix event is the opening of the qualification cycle for the Tokyo 2020 Olympic Games," he stated. "Over the last 12 years we have seen many new countries emerge as strong taekwondo nations and we can now say we don't have any single dominant team.
"At this Grand Prix we have introduced a number of new rules to encourage athletes to try more dynamic and exciting techniques. We will review how these rules work here and if needed we will make further changes to ensure we are delivering the very best events."