MUJU, Korea (June 24, 2017) – The World Taekwondo Federation President Chungwon Choue anticipates significant discussions with senior officials of the ITF, or International Taekwondo Federation on the sidelines of the 2017 World Championships, while some of the sport's star athletes applauded the new rules being rolled at the tourney.
World Taekwondo President Chungwon Choue and four elite athletes were speaking at a press conference on the opening day of the 2017 World Taekwondo Championships, being held at the dedicated Taekwondowon facility in Muju, southwest Korea.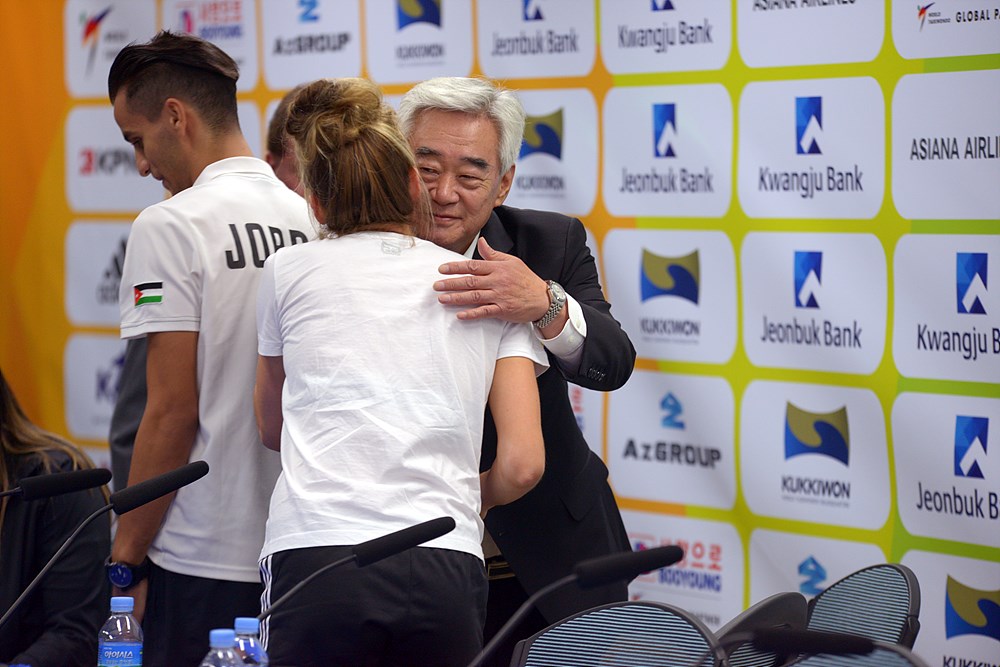 The tournament is the largest in taekwondo history in terms of participation, and features a demonstration team from the ITF, which will perform at the opening and closing ceremonies of the championships, on June 24 and June 30, respectively. Senior ITF officials will accompany the demonstration team.
"The Protocol of Accord concluded in 2014 says the World Taekwondo and ITF will exchange demonstration teams and we may be able to send our Demonstration Team to the [ITF World Championships] in Pyongyang in September," Choue said, referring to an agreement signed by the two federations in the presence of IOC President Thomas Bach in Nanjing, China, in 2014.
The 2014 protocol led to the ITF Demonstration Team performing at the last World Taekwondo World Championships in Chelyabinsk, Russia, in 2015.
And with ITF officials spending a full week in Muju, Choue hoped for in-depth discussions.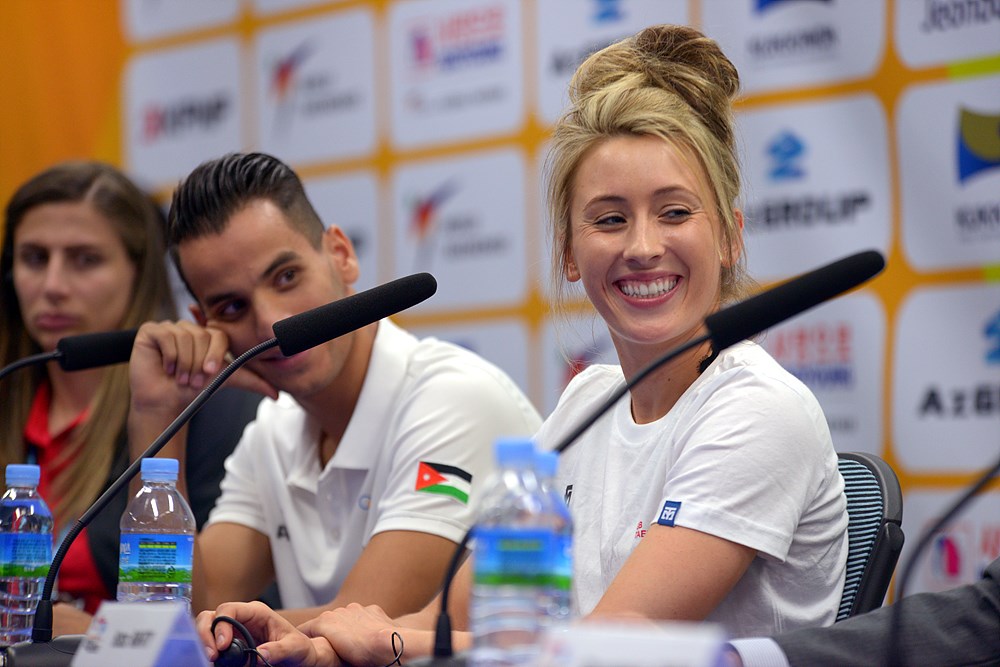 London 2012 and Rio 2016 Olympic double gold medalist Jade Jones of Great Britain, Rio 2016 gold medalists Ahmad Abughaush of Jordan and Hye-ri Oh of Korea and Rio 2016 bronze medalist and London 2012 silver medalist Dae-hoon Lee of Korea all seemed positive on the new rules being employed at the championships. The changes were instituted by the World Taekwondo after the 2016 Rio Olympics to ensure that taekwondo, in addition to being "fair and transparent" also "dazzles and excites."
"I have only done one competition on the new rules but I really liked it I think it is getting more interesting to watch," said Jones. "It becomes more interesting and attracts more people to watch it," added Abughaush.
The two home-town players were also upbeat.
"The World Taekwondo has been changing some of the rules and I understand that it is to make taekwondo a more interesting game for spectators," said Oh. "This is just the beginning and I do not know how it will play out, but I think the new rules create more free-flowing matches," said Lee. "For the new rules we need to be physically stronger and I am sure taekwondo will be more exciting for spectators."
The 2017 World Taekwondo Championships run from June 24-June 30.