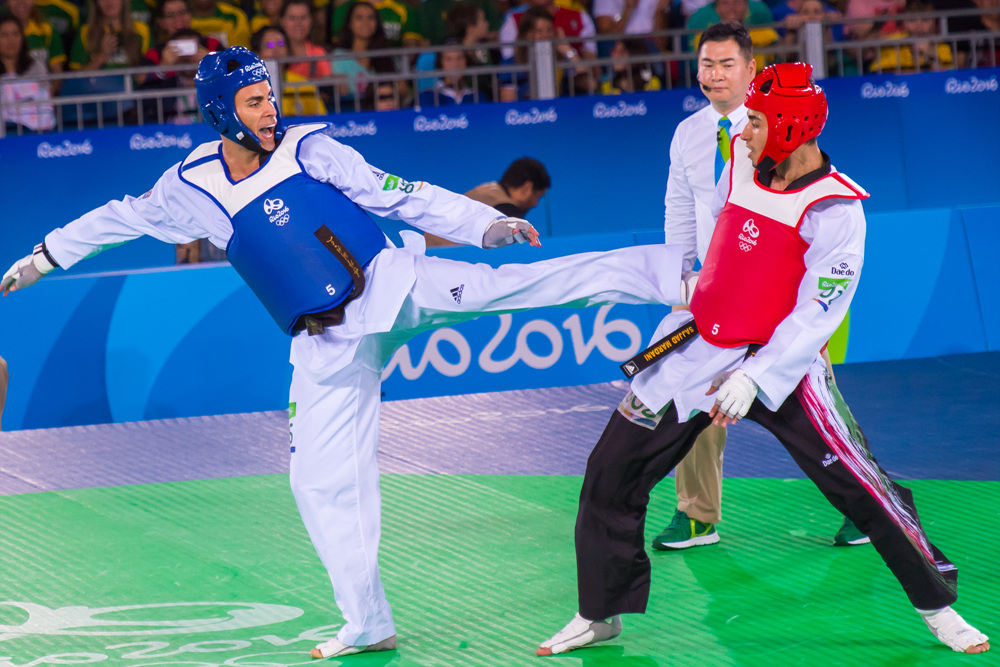 RIO DE JANEIRO, Brazil (August 22, 2016) - He did not win a medal in Rio, but Tongan athlete Pita Nikolas Taufatofua may just be the most famous face – or rather, body – to emerge from the 2016 Olympic Games
When he marched into the stadium as his nation's standard bearer during the Olympic Opening ceremony, bare-breasted, muscular and glistening, women around the world swooned, men invested in gym memberships and body oil and the Internet went wild, making the Tongan taekwondo fighter the first (and arguably the biggest) viral hit of Rio 2016.
What does he make of his overnight success?
"It was not overnight!" said the smiling 32-year-old who, though of Tongan birth, lives and works in Brisbane, Australia. "This was 20 years of taekwondo discipline to get me to this point! This point was just the tip of the iceberg!"
Even so, the constant stream of media attention has been a surprise.
"We thought, 'Oh, it will settle down and I will have time to focus on training,' but it just got bigger!" he said during an interview with WTF Communications in the athlete warm-up area of Carioca Arena 3, in Rio's Barra Olympic Park. "We have had media from all over the world: From Argentina, Brazil, Korea, China, Australia, America…."
Indeed. During and after the opening ceremony, there were 45 million hits on Google asking "Where is Tonga?" and "What Sport Does Taufatofua Do?" He has since been featured in the Washington Post, TIME magazine, Entertainment Weekly, the Wall Street Journal and a host of other media that are virgin territory for taekwondo fighters. Some 100 million viewers tuned in during his appearance on "The Today Show," and George Bush's daughter was filmed oiling him up. ("Who's the superpower now?" he jokes) Finally, his (again, topless) appearance at the Olympic closing ceremony generated a second wave of hysteria.
In short, he has been given an opportunity – and it is one that he intends to take full advantage of. "It is important for me to get Tonga out to the world," he said. "And to get taekwondo out to the world, as well." In fact, his nickname is "The Real Tongan Ninja." "There was an old movie called 'The Tongan Ninja,'" he explained. "So people started to say, 'We need to call him, The Real Tongan Ninja.'"
While he is understandably reluctant to discuss any of the commercial sponsorship opportunities that have suddenly become available, he knows that the money could be a game changer for his cash-strapped region. "We have been self-funded for years," he said. "It has been tough, a very tough time for us."
His Olympic baptism of fire was tough, too, as his +80kg fight pitted him against Iranian top gun Sajjad Mardani. It proved a one-sided war. While Taufatofua was game, and showcased a wide range of techniques, Mardani delivered a stern lesson, taking the match 16-1.
"I did not realize how quick his front leg was – I did not think it would reach me, my distance was off," the Tongan mused, post-fight. "But we fought, we shook hands, we gave the crowd a show and the crowd was happy – at my expense!" (Laughs) "That is the taekwondo we have to take to the world!"
The experience gulf between Mardani, a frequent fixture on the international circuit and world ranked #3, and Taufatofua, world ranked #157, was as wide as the geographical gulf between Iran and the Pacific Island nation: It was only the Tongan's third fight in three years.
"I have not fought anyone on that level that I can remember, I don't have world ranking points as I could not afford to go to the European Opens or the Grand Prix," he said. "But I feel I have enough tools if I could grow them. And we have shown the world that Tonga is a small nation, but big-hearted."
The commercial opportunities which his sudden fame have generated could help transform the underfunded state of Oceania taekwondo – which failed to win any medals in Rio. "We can really bring up the next generation of athletes and get funding for the Pacific, this is a big thing for us," he said. "We are a small country, but now we have a big voice."
And it is an educated voice – Taufatofua is no muscle head. Professionally, he is a counselor for homeless youth, a job in which his strong Christian faith and his taekwondo training – training he has been engaged in since he was five years old - provide a powerful foundation. "I use the discipline of taekwondo to help people," he said. "I work full time, I train full time and I study full time."
Even so, as the new poster athlete for taekwondo as a form of physical conditioning, he has strong views on health and fitness, insisting that functional strength is more important than aesthetic looks.
His power workout consists of plyometric routines, kettlebell routines, functional weight training and cable/pulley exercises. For cardio, he does wind sprints on the incline treadmill: 10-15 second sprints, then 30 seconds break. And for flexibility, he stretches twice a day, both the front and rear lines of the body.
Where does taekwondo slot into the fitness matrix? "Martial arts is fundamental, it offers a couple of things which normal bodybuilding does not," he said. "It changes your mind as well as your body; it makes you stronger mentally, then your body follows."
The chief reason people fail to attain physical fitness, he believes, is their inability to persevere. "People give up way too easily, they look for the quick-and-easy method," he opined. "The reality is that you have to go through the valley to reach the mountain."
Another problem is the temptations of modern life. "I feel men give up a little bit too early," he said. "They are at this point where it is too hard, it is easier to eat crap food and drink crap drinks."
The results of "The Real Tongan Ninja's" dedication are built into the physique he showcased to the world, drenched in baby oil. "Not baby oil!" he insisted. "Coconut oil!"
So what made him decide to go out bare-breasted, instead of in a conventional blazer and slacks?
Was it male pride? Or perhaps the egotism of the elite athlete?
He turns serious. "As opposed to the Western influence, the blazer, we wanted to go out wearing what our ancestors wore into battle 200 years ago," he said.
Spoken like a warrior.