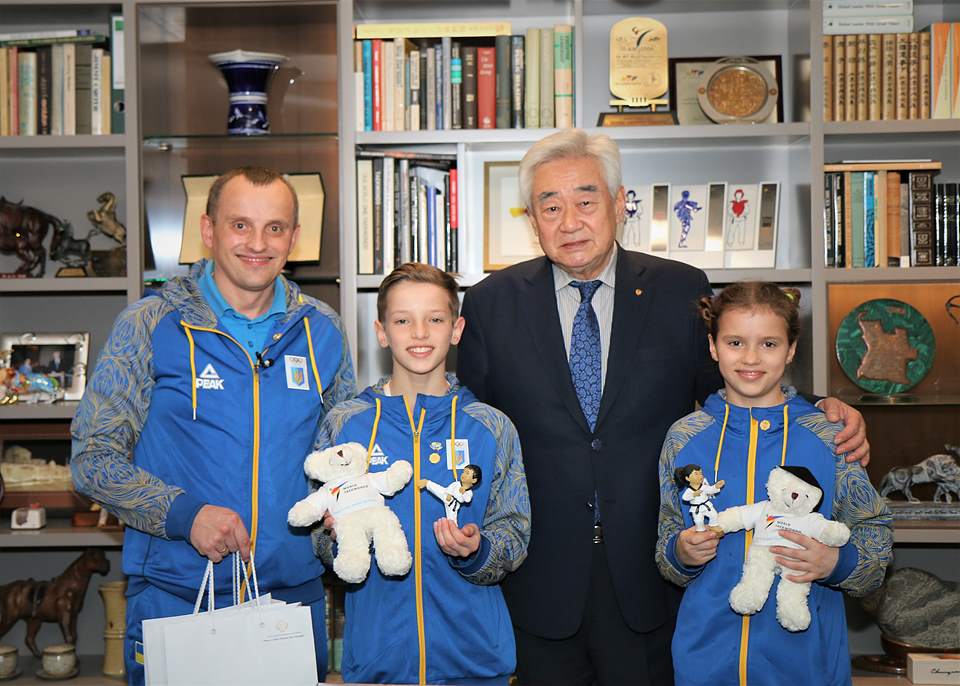 SEOUL, Korea (Apr. 25, 2022) - For any athlete, competing at a World Championships is a source of immense pride; representing your country on the international stage is the pinnacle of many athletes' careers.
For Davyd & Yeva the Goyang 2022 World Taekwondo Poomsae Championships were particularly special as they represented more than a sporting event. For these young Ukrainians siblings, these Championships were a realisation of their sporting dreams but also demonstrated their strength and resilience in the face of adversity, which has been such a hallmark of the Ukrainian people during the current war.
At just 13 and 12 years old, Davyd and Yeva have already experienced what people hope not to experience in their lifetimes. When Russia invaded Ukraine, their father, Ruslan, converted his Gym-dojang into a shelter for refugees from the war. Despite the unimaginable conditions, Davyd and Yeva continued to train. For two hours a day they practice Taekwondo with their coach over Zoom who is 800km away. They have been practicing Taekwondo for the last seven years, and have focused on Poomsae for the last two years.
It was their dream to come and compete at the World Championships in Goyang but the war threatened that dream. Ukraine had originally planned on sending six athletes as part of their national team but after the invasion and during martial law, men over 18 years are not allowed to leave the country. This would have prevented their father and manager, Ruslan, from travelling with them to Korea, but an exception is provided for men with three or more children under 18. With the help of World Taekwondo, Ruslan could therefore travel with Davyd and Yeva while his partner remained at home with their youngest child and continued to support refugees at their gym.
The journey was not without its challenges. All Ukrainian airports are closed due to the war and so they had to drive more than 1500km and 30 hours to Warsaw, Poland before catching a flight to Korea.
"Ukrainian National team athletes are strongly wishing to participate in international competitions," Ruslan said. "We are very thankful to World Taekwondo who helped us realize our dream – make dreams come true."
On Day 1 of competition the siblings made it to the finals (best 8 teams) but were not able to claim a medal. In the individual categories they both fought valiantly but were not able to win medals but Davyd secured an impressive 5th place in the male cadets. Irrespective of their finishing position, they inspired us all with their resilience and determination to realise their dreams.
World Taekwondo President Chungwon Choue praised the athletes when he met with them at the World Taekwondo headquarters after competition.
"Taekwondo is leading sport to help people in need," he said. "Ukraine is in a difficult situation, but their participation in Poomsae sends a message of peace to around the world."