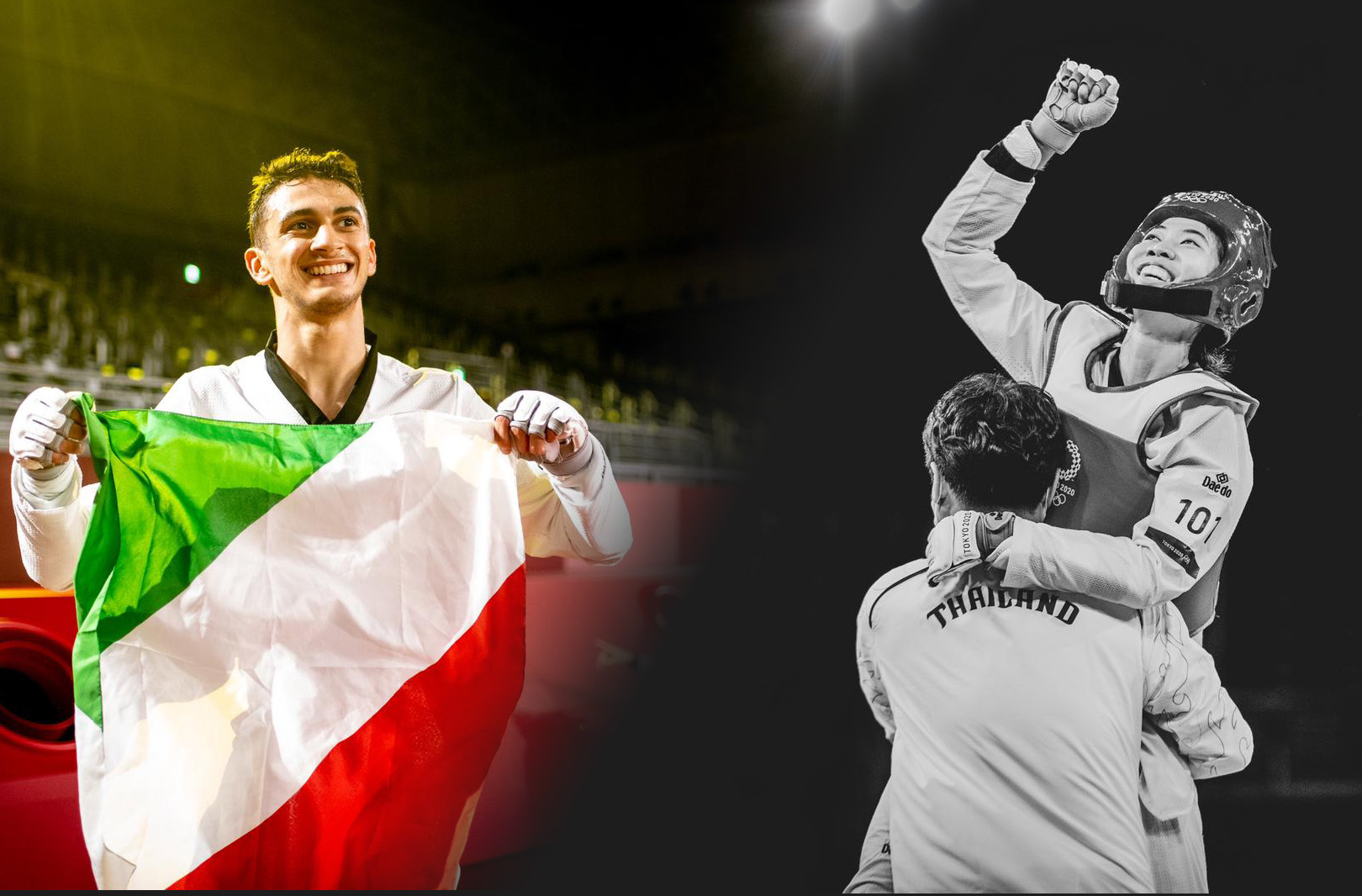 Favorites fell and new stars rose as the long-delayed Olympic battle finally commenced in Chiba
CHIBA, Japan (July 24, 2021) – Italy's Vito Dell'Aquila and Thailand's Panipak Wongpattanakit seized the first two golds in the four-day Taekwondo Olympic competition at Tokyo 2020, in the M-58kg and W-49kg categories, respectively.
Both categories' final matches featured elite, established fighters battling newcomers.

The silver in the M-58kg went to Tunisia while the silver in the W-49kg was taken by Spain. Bronzes went to ROC and Korea in the M-58kg, and to Serbia and Israel in the W-49kg. Israel's bronze was that country's first-ever medal in Olympic Taekwondo.

The finals were visited by IOC President Thomas Bach, IOC Vice President Ser Miang Ng, IOC Member Khunying Patama Leeswadtrakul, UNHCR High Commissioner Filippo Grandi, ASOIF President Francesco Ricci Bitti and WBSC President Riccardo Fraccari.

They followed a day of action in the Makuhari Messe Hall in Chiba just outside the centre of Tokyo. Given the lockdown on international competition in 2020, the results in this Olympic Games were always going to be unpredictable – and, indeed, the action on the day included a pair of shock upsets.

Double Olympic gold medalist Jingyu Wu of China, who had come to Tokyo in quest of a historic third Olympic win, had been beaten in the semi finals by the un-heralded, 17-year-old Adriana Cerezo Iglesias of Spain – who later took silver.

Bach personally consoled Wu. The 34-year-old mother, a legend in the sport, was fighting in her last Olympic Games.

Another shock defeat had been suffered by Jun Jang of Korea – the dominant fighter in his category before the pandemic struck. He was defeated in the semis by the equally un-heralded Muhamed Khalil Jendoubi of Tunisia, who went on to win silver.

Despite the lack of spectators due to the Covid-19 pandemic, the atmosphere in the stadium was electric. Rock music kept the atmosphere upbeat in the downtime between rounds and bouts, while Japanese Taiko drummers pounded martial beats.

In a showcase – the only showcase at Tokyo 2020 – that took place before the medal fights, a Mixed Gender Team Competition took place. In today's event, China took on Cote d'Ivoire, with Team China grabbing a hard-fought 65-42 victory. Japanese Taiko drummers pounded martial beats in advance of the contest.
(A full report on this high-speed, hard-hitting "battle of the nations" will be forthcoming on the final day.)

M-58kg
Vito Dell'Aquila of Italy faced off against Muhamed Khalil Jendoubi of Tunisia. On paper, the Italian had clear superiority: A World and a Grand Prix gold medal hang in his medal cabinet, while the Tunisian can boast just three Open and four Continental wins.

But it was Jendoubi who drew first blood with a whiplash kick to the head for three points - a move that clearly stunned Dell'Aquila. Then another two points with a body kick. The Italian managed to grab two points with an in-close torso kick and Round 1 ended 5-2 to Jendoubi.

Round two started with a flurry, and the Italian scored twice in quick succession. The board rose 6-7 to Jendoubi. Jendoubi was looking very dangerous with high kicks, forcing Dell'Aquila to lean back and keep his head out of range. Round 2 ended 9-8 to Jendoubi – meaning that both fighters had everything to battle for in the final round.

Round 3 started with some close-in work, with the Italian seemingly unable to reach his opponent's head with his round kick. Gamjeons for Dell'Aquila were successfully protested by his coach. The score rose to 10-9 to Jendoubi - but Dell'Aguila equalized, 10-10 with a minute to go.
It would all came down to the final seconds, and top-quality Taekwondoin can turn a match as the clock ticks down. Dell'Aquila showed that quality amid a furious, down-to-the-final-buzzer flurry: he found his range and connected exactly when he needed to. Final score? 16-12 and gold for the Italian, and a very well-deserved silver for the Tunisian.
Bronzes were won by Mikhail Artamonov of ROC and Jun Jang of Korea.

W-49kg
The near-unknown 17-year old Adriana Cerezo Iglesias of Spain took on long-term favorite and widely experienced Panipak Wongpattanakit of Thailand for gold.
This looked like walkover: Cerezo Iglesias has 21 Open victories to her name, but has never won a major. The dominant Wongpattanakit, on the other hand, has two World and six Grand Prix wins, as well as an Olympic bronze, to her name.

The fight started with both athletes probing with long-range side kicks – but it was the young Spaniard who connected first. The Thai, who looked to have the advantage in leg length, shot back with a combination of both head and body kicks, but Cerezo Iglesias took Round 1, 4-2.
In the second, Cerezo Iglesias continued to play her side kick. Wongpattanakit put the pressure on and connected to the head while the Spanish athlete visited the mats. The second round ended 9-6 to the Thai. Tight stuff, and the third round would be see-saw drama.

Cerezo Iglesias started to aim high but it was her jackhammer side kick to the body that put her ahead, 10-9. Yet as the seconds counted down, the Thai showed her experience and connected to the body, winning the match 11-10.

When the final buzzer went, a broad grin spread across Wongpattanakit's face as she secured the gold while the youthful Spanish player broke down in tears: So close, yet so far.

Bronzes were won by Tijana Bogdanovic of Serbia, and by Abishag Semberg of Israel.
That ended today's matches.