SOFIA, Bulgaria (21 October, 2019) - It is impossible to name the best category in the game at present, but by any standard, the Men's -80kg should be a serious contender for that honor – and the division's final at the Sofia Grand Prix would be especially interesting.
With the three key fighters in the category – Milad Beigi Harchegani of Azerbaijan, Cheick Sallah Cisse of Cote d'Ivoire and Maksim Khramtcov of Russia – all skipping Sofia, the field was wide open.
After a day of combat, two warriors stepped onto the mats to do battle for gold: Jordan's Saleh El-Sharabaty and Egypt's Seif Eissa.
While the Egyptian had the height advantage, the Jordanian looked stronger. Both had been delivering blistering bouts all day. And the two know each other well.
"Seif and I have played many times - this is the fifth time – and we know each other too well: I know this kick, he knows that kick," said El-Sharabaty. "He is very good player, very fast and very tall. The plan was stay focused and don't give away any points."
In fact, that plan was to go awry in Round 1.
Game On
The match saw a swift start by both men as they fought to dominate the center of the mats. Eissa unleashed his long front leg, alarming the Jordanian who employed some nifty footwork, and countered with a side and back kicks. But it was the Egyptian who landed a monster punch for the first point, and Round 1 ended 1-0 to Eissa.
In the second, the Jordanian shifted up a gear, landing two head kicks. Suddenly, Eissa was in trouble - but he countered with a high round kick, for 5-6. The Jordanian appeared to plant a simply wicked spinning back kick to Eissa's face that drew gasps from the crowd, but it did not score, and Round 2 ended with a close 6-5 to El-Sharabaty.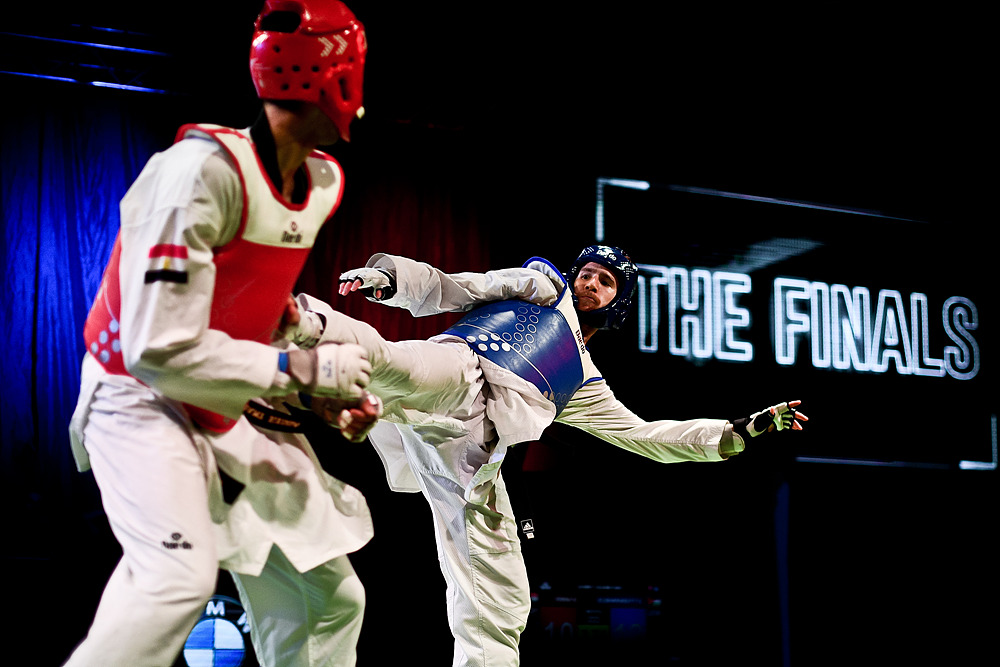 "When we played before, I did that kick and it scored," El-Sharabaty said of his face strike in the second. "Not this time!"
In the third, the Egyptian landed first, going up to eight with a spin kick; another heavy body shot and Eissa was on 10 points. El-Sharabaty now needed to work. He ducked under the arcing leg of the Egyptian and continued plying his side kick. He brought his score up to nine with a kick in the clinch, and then landed a cobra-like round kick to the head.
Twelve points rang up on the board and El-Sharabaty exulted for a split-second at the success of his special weapon. "Coach said, before we got into the match, that this kick - down and then into the face! – would score," said the Jordanian. "So I kept it hidden for the last seconds!"
Still, battle continued at a furious pace as the seconds counted down, but it ended on 12-10 to the Jordanian - who dropped to his knees and raised his fists, celebrating his first Grand Prix gold.
Jordan Rising
It had been an extraordinary victory for the 21-year-old fighter from Zaraq'a who only got into the game in 2016. Or rather - got back into the game in 2016.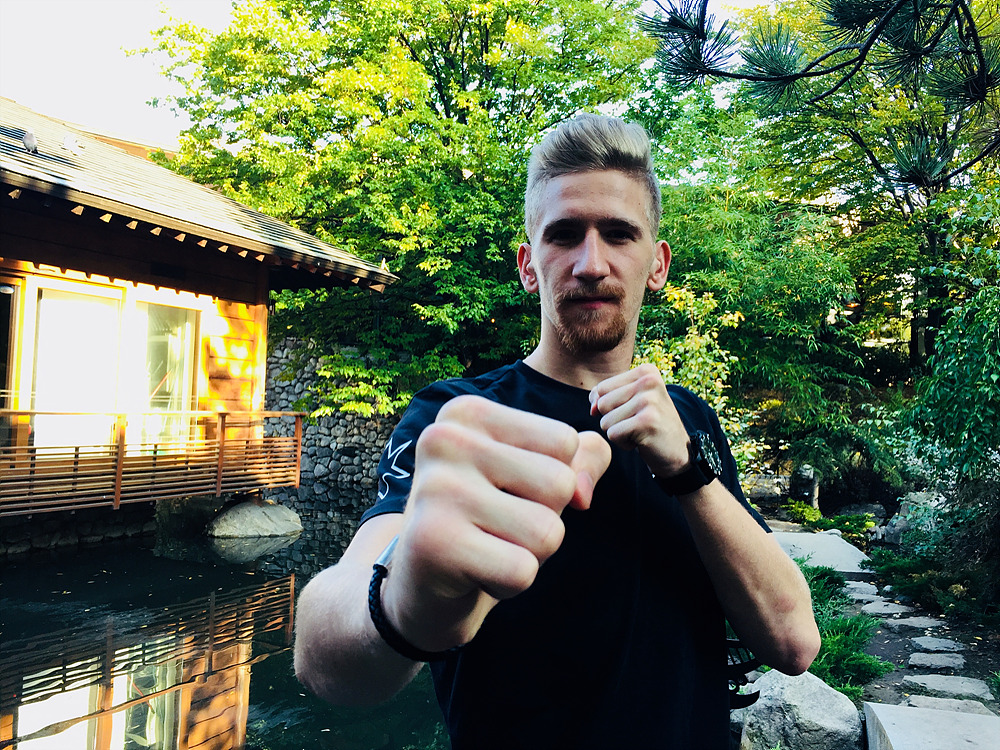 "I started taekwondo when I was young – I used to be a bad boy, and my mother wanted me to be a good boy, so she sent me to a taekwondo center," El-Sharabaty said the day after his victory. "Now, I am not a bad boy!"
Perhaps - but in the early days of his return to taekwondo, he was not an ideal student.
"At the start, he did not listen to me, he was lazy!" said Coach Faris Al-Assaf. "But not now! Now he has started to get good, and he is getting the medals."
The year he returned to the sport, 2016, was a historic one for Jordanian taekwondo - and, indeed, for Jordan as a sporting nation.
That year, on the mats in Rio, the virtually unknown fighter Ahmad "The Desert Wolf" Abughaush astonished the taekwondo world when – in spectacular, jump-kicking style he won his country its first ever Olympic medal in taekwondo. And that medal was gold.
Unsurprisingly, the sport – which had previously boasted a surprisingly high number of master-grade black belts - surged across the country.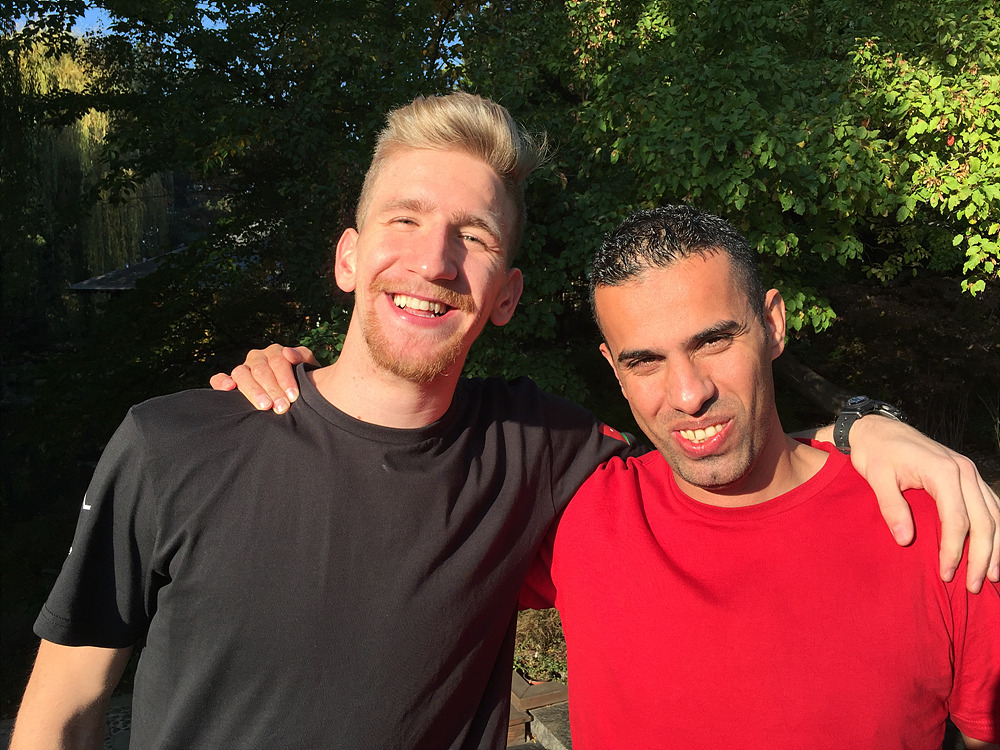 "Now in Jordan taekwondo is the number one sport, more than football," said Al-Assaf, who is both Abughaush's and El-Sharabaty's coach. "All the children in Jordan play it in school, and in clubs after school."
The federation is aiming to make a big mark at the 2022 Youth Olympics in Senegal with its new generation. "The aim is to have two golds," said Al-Assaf. But there is more pressing business before then. "Maybe three [Jordanian players] will qualify for Tokyo 2020," he said.
On Track for Tokyo
El-Sharabaty hopes to be among them. But with his current ranking, his place is not guaranteed.
"We hope Moscow will be our 'Stalingrad' [ie a decisive victory] to ensure qualification in the early stages," said Ali Al-Asmar, Executive Manager of the Jordan Olympic Committee. A good result at the Moscow Grand Prix Finals in December would grant El-Sharabaty precious ranking points - meaning he would not have to battle through the bruising Continental Qualifications in early 2020.
Still, Team Jordan faces an uphill battle on its path to Olympic glory in 2020, Al-Asmar admitted - the squad started its Olympic preparation late, at the end of 2017. "We quietly started later than other teams, and we lost a lot of points," he explained. "We started in the Grand Prix in 2018."
Even so, results have been promising: "Now, we are talking four players in the top twelves."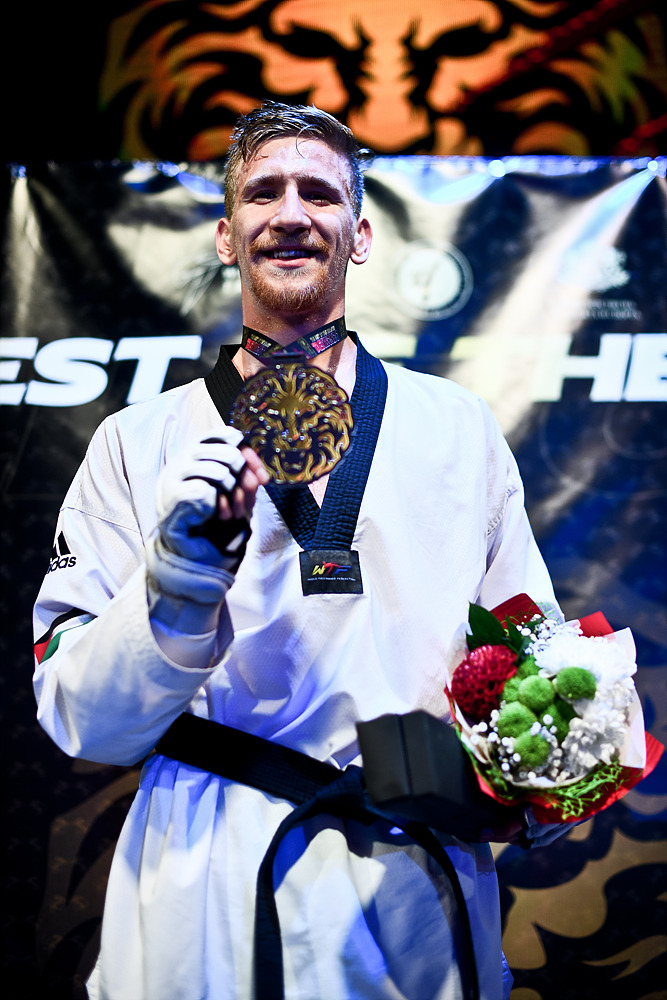 Powerful and confident, he brings a range of combative attributes to the mats. His coach says he blends the power and high-altitude kicks of old school taekwondo with the tactical smarts and front leg game of the new school.
In terms of physique, El-Sharabaty cites winning leg strength: "When I push kick, I can move the opponent with my strikes," he said. Even so, his favorite shots – which were on full display in Sofia - are head kicks.
He has no problem with confidence. "I always say to myself I am the best in my weight, that I can do it," he said of his pre-match ritual. "Then I pray."
Still, the coming weeks and months are not looking easy.
"I will be training hard, working hard,' he said. "Right now, I am challenging myself. If I beat myself I can beat anyone else."
Saleh El-Sharabaty: At a Glance
Hobby? "Go out with friends watch films."
Why do you do taekwondo? "I feel I can get a lot of achievements for myself, for my family and for my country.".
Motto: "They pray every time for my downfall - but it is me who answers them!"