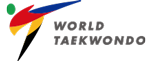 The World Taekwondo is the International Federation (IF) governing the sport of Taekwondo and is a member of the Association of Summer Olympic International Federations (ASOIF) and International Paralympic Committee (IPC).
Established

: May 28, 1973

No. of Member National Associations

: 208

Location

: 5th Fl., Kolon Bldg., 15 Hyoja-ro, Jongno-gu, Seoul, Korea, 03044

President

: Dr. Chungwon Choue

Secretary General

: Mr. Hoss Rafaty

Affiliation to SportAccord (GAISF)

: October 8, 1975

IOC Recognition

: July 17, 1980 (83rd IOC Session in Moscow)

Affiliation to ASOIF

: February 15, 1995

Olympic Games Demonstration Sport

: 1988 Seoul Olympic Games & 1992 Barcelona Olympic Games

Official Olympic Sport

: Sydney 2000 Olympic Games, September 4, 1994 (103rd IOC Session in Paris)

Confirmation of Taekwondo as an Official Sport

: for Athens 2004 Olympic Games, December 11-13, 2000 (IOC EB Meeting in Lausanne)
Expansion of Taekwondo quota at Athens 2004 Olympic Games to 124 in eight weight categories, respective four weight classes for men and women, Sep. 18-20, 2001 (IOC EB Meeting in Lausanne)
Feb. 5-7, 2006: IOC Executive Board decided at its meeting in Turin, Italy to expand the number of taekwondo entry in Beijing 2008 Olympic Games from 124 to 128 (two males and two females were added in consideration of the new establishment of Oceania Taekwondo Union).
IOC Executive Board decided the number of sports programs of the 2008 Beijing Olympic Games to be 27, including Taekwondo. The 114th IOC Session held in Mexico City, Mexico on November 29, 2002 also confirmed inclusion of Taekwondo in the Beijing 2008 Olympic Games.
IOC reviewed the Olympic program for 2012 London, Taekwondo was voted to retain in the Olympic Program of the London 2012 Olympic Games at its 117th Session in Singapore on July 8, 2005.
IOC selected 26 core sports for 2016 Rio Olympic Games, including taekwondo at its 121st Session in Copenhagen on Oct. 2-9, 2009.
IOC confirmed taekwondo as one of the 25 core sports for 2020 Tokyo Olympic Games at its 125th Session in Buenos Aires on Sept. 7-10, 2013
International Paralympic Committee (IPC) Governing Board granted 'IPC-recognized IF' status to the WT on Oct. 16, 2013.
IPC final decision on the sports programs of the 2020 Tokyo Paralympics, including taekwondo, was made at the 69th IPC Governing Board meeting held in Abu Dhabi, UAE on January 30-Feburary 1, 2015.
Nov. 14-15, 2015: IPC General Assembly in Mexico City, Mexico granted a full membership to the WT (Nov. 15: ratification of new members) on Nov. 15, 2015.