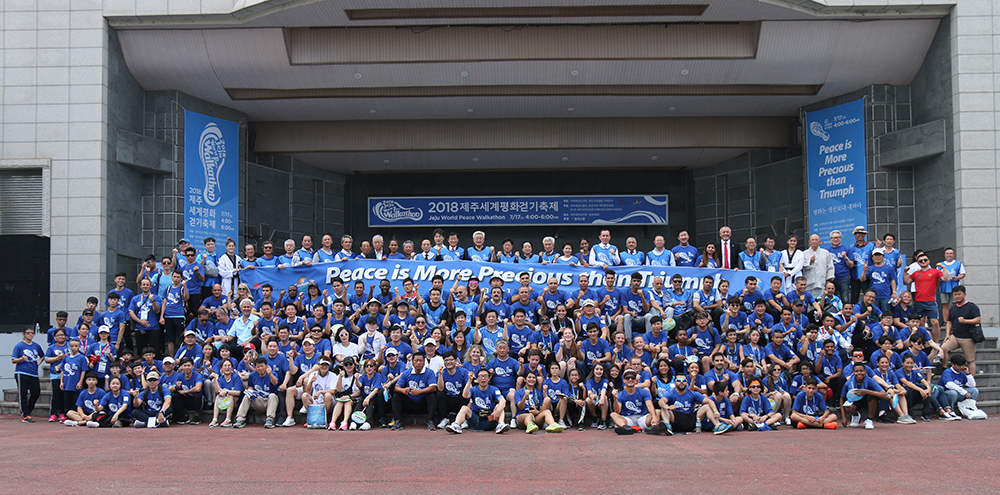 Charity Walking jointly promoted by WT, GCS International
JEJU, Korea (July 17, 2018) – The 2018 Jeju World Peace Walkathon was concluded in a resounding success on the "World Peace Island" of Jeju on July 17, 2018.
The inaugural charity walking event, which was held at the Jeju Seaside Art Center in Jeju City, was jointly promoted by World Taekwondo and GCS International, a Seoul-headquartered, UN-recognized NGO.
Under the slogan "Peace is More Precious than Triumph," the walkathon drew hundreds of people, mostly athletes and officials attending the 2018 Jeju Korea Open International Taekwondo Championships, which kicks off on July 18 for a week-long event.
The walkathon was intended to raise funds, which will be disbursed to orphans, reformatory inmates and victims of natural disasters in developing countries.
After a 30-minute opening ceremony at the Jeju Seaside Art Center, most of the participants joined a 2.3km seaside walking from the center to the famous tourist attraction of Yongduam Rock via the Yongyeon Bridge.
The opening ceremony also featured a taekwondo demonstration by about 40 senior Jeju citizens, whose average age was 80.
"I am pleased to see that, here today, we have so many athletes and officials from around the world, who will be participating in the 2018 Jeju Korea Open," said WT President Choue in his opening remarks.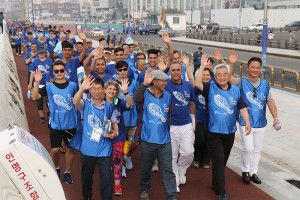 Choue said, "To fulfill its social responsibility, World Taekwondo will more actively carry out humanitarian projects to empower the powerless around the world. We are doing it through our in-house 'Taekwondo Cares' program. We are doing this through our Swiss-based charity, the Taekwondo Humanitarian Foundation. And we will also be doing it hand in hand with GCS International and others international NGOs." "Taekwondo is a combat sport, but here, on the island of world peace, it is an art of friendship and world peace."
At the end of the opening ceremony, Kim In-seon, a member of the WT Council together with two Uzbek female athletes and two Nepalese female athletes, recited three times in Korean and English the slogan of the event, "Peace is More Precious than Triumph."