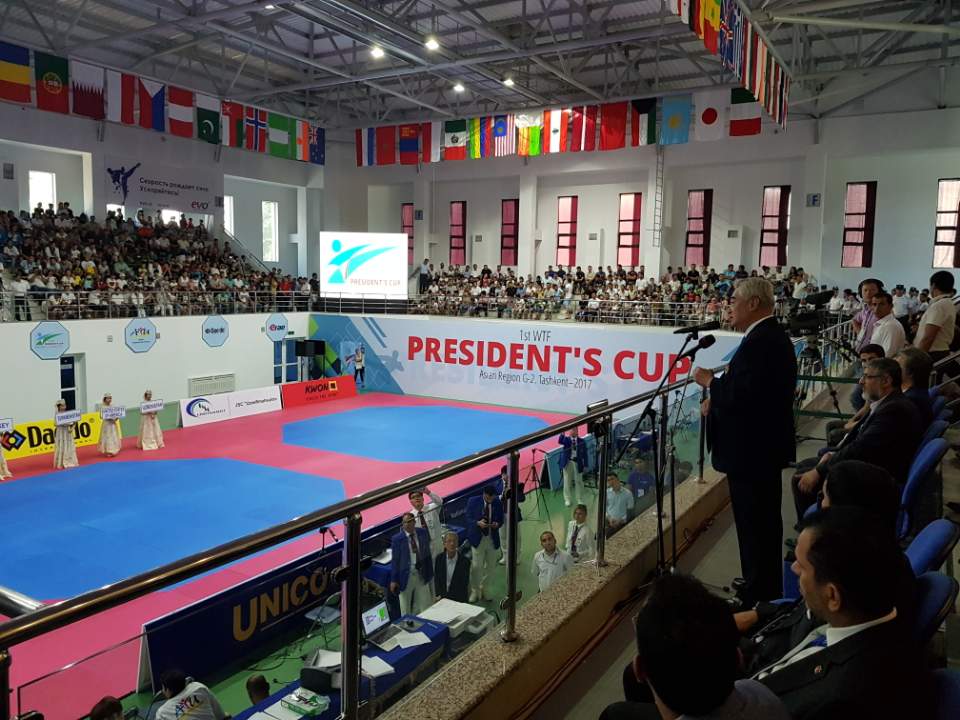 The inaugural World Taekwondo President's Cup-Asian Region Taekwondo Championships kicked off in Tashkent, Uzbekistan on August 11, 2017.
The three-day G-2 event, which features cadet, junior and senior divisions, drew a total of 620 athletes and 140 officials from 26 countries.
Reflceting the high popularity of taekwondo in Uzbekistan, the opening ceremony of the event took place at the Universal Sports Palace, with the attendance of Mr. Rozukulov Ulugbek, deputy prime minister of Uzbekistan; Mr. Kurbanov Rustambek, chairman of the State Committee for Physical Culture and Sport of Uzbekistan; Mr. Akhmatdjanov Umid, deputy chairman of the National Paralympic Association; and Mr. Parpiev Botir Rakhmatovich, president of the Uzbekistan Taekwondo Association.
"Tashkent has a long history of inter-Asian trade and interaction, and increasingly of taekwondo. It hosted the 5th World Taekwondo Poomsae Championships in 2010 and the high number of participants in the 1st President's Cup well reflects the strong leadership of the president of the Uzbekistan Taekwondo Associaion," said World Taekwondo President Chungwon Choue.
A day earlier, WT President Choue was awarded at the Tashkent City Hall the honorary citizen of Tashkent City and an honorary doctor from the National University of Uzbekistan. He also awared Mr. Shavkat Mirziyoyev, president of the Republic of Uzbekistan, with an honorary 9th dan black belt at the latter's office.
Dr. Choue's speech was followed by the congratulatory message by the deputy prime minister.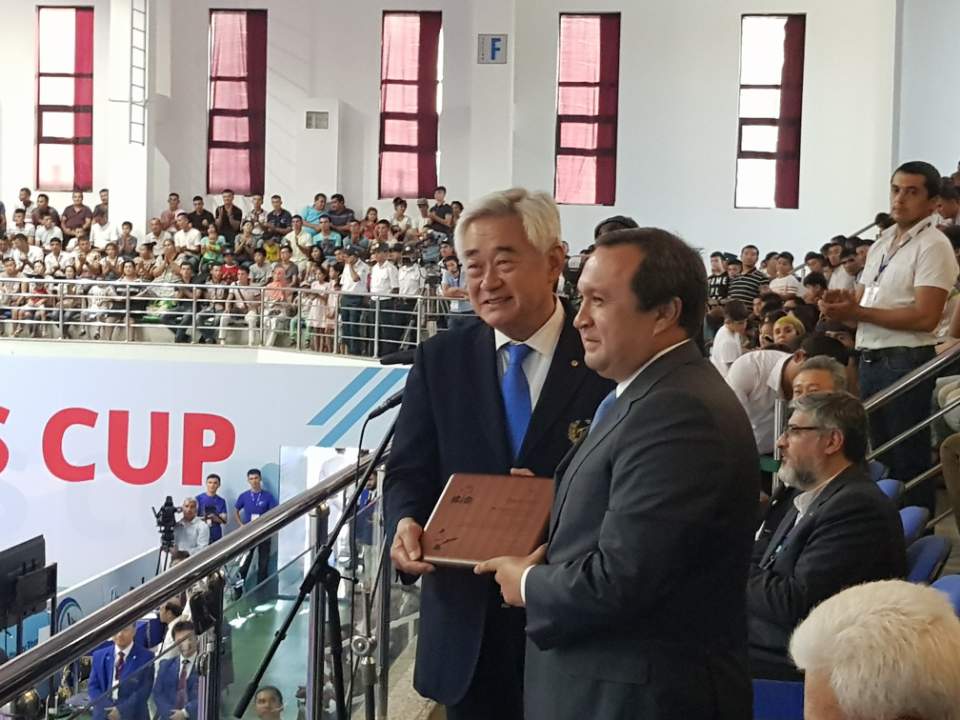 Dr. Choue gave a plaque of appreciation to the deputy prime minister, the sport minister and the Uzbekistan Taekwondo Association president. He also gave the World Taekwondo certificate to the Uzbekistan Taekwondo Association president, who participated in a Board Break Challenge event and donated for the Taekwondo Humanitarian Foundation.
The World Taekwondo Presentation (Demonstration) Team performed at the end of the opening ceremony, drawing a big applause from spectators.
A welcome dinner hosted by the deputy prime minister followed.